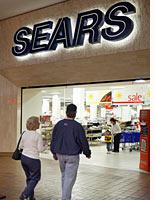 Despite its 900 stores, a proud history dating back to 1886, and a half-dozen makeovers, Sears has been muddling along for years. Outshined by Home Depot and Lowe's on the hard-goods side, Best Buy in appliances, and Wal-Mart, Kohl's, and Target on the soft-goods side, the original big-box retailer has become an afterthought in the retail universe. But last week, Sears' stock, which had been badly lagging behind broader indices and retailing rivals for the year, suddenly shot up 30 percent in a single day.
The stock didn't spike because investors were suddenly psyched about Sears' retailing prowess or about the prospects for a blowout holiday season. Ironically, it rose largely because of speculation that Sears might start selling less.
The catalyst: news that Vornado Realty Trust, a publicly held real-estate company run by the secretive Steven Roth, had acquired several million shares of Sears stock, giving it a 4.3 percent stake. Roth is one of the few CEOs of a public company who doesn't seek attention. (His wife, Daryl Roth, a prolific and award-winning Broadway producer, has a much higher public profile.) But he's an excellent steward of capital. And he's a master of thinking out of the big box—literally. Where others see failed retailing concepts, Roth sees quality real estate.
Over the past two decades, Roth has built a nine-figure fortune by liberating valuable property from the iron grip of crappy stores. In the late 1970s Two Guys, a New Jersey-based electronics discounter that was a precursor to Crazy Eddie, expanded wildly, went public, and ran into trouble. Roth and several colleagues managed to gain control of the failing company. But rather than try to revive the chain, they shut down the stores—most of which were located in strip malls in the Northeast—and rented them out to other retailers. Roth pulled off the same trick about a decade later with Alexander's, the old-line New York department store that went bankrupt in 1992. Cursed with poor retail mix, Alexander's was nonetheless blessed with excellent locations—large blocks of space in busy, heavily trafficked retail hubs in midtown Manhattan, the Bronx, Brooklyn, Queens, and New Jersey. Once he acquired the bankrupt company, Roth leased sites to Caldor (which has since gone bankrupt), Sears, Circuit City, and IKEA and sold off several others. Today, Alexander's  is a profitable real-estate company, collecting lease payments on properties where its retail concept failed. 
The crown jewel in Alexander's crown was its flagship store, an unsightly pile that occupied an entire city block next to Bloomingdale's in midtown Manhattan. Throughout the 1990s, as New York's real-estate market recovered, Roth remained mum about the Alexander's site, which stood out as a boarded-up blight in Rudy Giuliani's shining metropolis. The rap on Roth was that he was an insecure strip-mall king from suburban New Jersey, and that he was so eager to prove his intellectual credibility to Manhattanites that he had difficulty pulling the trigger on this remarkably high-profile holding.
But Roth was no Hamlet-on-the-Hudson. As development schemes came and went, his company expanded and diversified. Vornado bought Chicago's Merchandise Mart (from the Kennedy family); Washington, D.C., landlord Charles Smith Realty; and lots of office space around Manhattan's Penn Station. Roth ultimately had the last laugh on those who had dismissed him as a bridge-and-tunnel parvenu by developing the midtown Alexander's site into a Cesar Pelli-designed extravaganza. It now hosts Bloomberg L.P.'s headquarters, retail space for Home Depot and H&M, and fancy condominiums, known as One Beacon Court.
While Sears is nowhere near bankrupt, investors see Roth's involvement as a sign that he will pressure Sears to sell off or lease out many of its prime locations to other retailers. Edward Lampert, the hedge-fund manager who turned bankrupt Kmart into a stock-market darling, also owns a big Sears stake and could be an ally in this effort. But the comparisons between Sears and Alexander's (and Two Guys) aren't quick and easy. Roth's stake, at about 4.3 percent, is far from a controlling one. And Sears isn't bankrupt, it's just struggling. In recent years, Sears has sold off its troubled credit-card business, paid a lot of money for Lands' End, and opened and closed stores. But this flurry of activity hasn't done much for its core business. Its same-store sales rose in October  but are down 2.1 percent so far this year. And in its most recent quarter, Sears lost money. There's no sign that Sears' management has latched onto Roth's insight that a retailer's value can lie in the ability—or willingness—of the company to view its stores as commercial stages. When your own productions start to falter, logic dictates that you either sell the theater or try to rent it out to another production company. In Broadway terms, Sears' retailing concept is like Cats toward the end of its run: a known quantity with a proud financial history that could probably go on for several more years, but that has long since failed to generate excitement or growth. Now that Roth is building a stake, investors are hoping Sears will seek to fill some of its stages with the next Avenue Q.
---