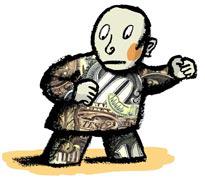 Federal Reserve Chairman Alan Greenspan, in his eagerly awaited appearance before Congress yesterday, was generally upbeat. Sure, "economic activity hit a soft patch in late spring," in part due to higher oil prices. But, like buses heading off to summer camp and a spike in the number of weddings, that soft patch was a phenomenon confined strictly to June. "The most recent data suggest that, on the whole, the expansion has regained some traction."
As Greenspan spoke on the hill, a host of companies were testifying in New York and elsewhere. After the long Labor Day weekend, analysts and executives were getting together at confabs like the Goldman Sachs 10th Annual Global Retailing Conferenceand the Prudential Equity Group Back-to-School Consumer Conference. Meanwhile, with only a few weeks remaining in the third quarter, executives have been tallying August results and September orders. And the message they've been putting forth is somewhat different than Greenspan's rosy scenario. Several giant companies that serve large swaths of the broad consuming public show that we may still be wading through that soft patch.
Coca-Cola Enterprises, which bottles and sells about 80 percent of Coke's bottle and can volume in the United States, yesterday lowered its earnings estimate to reflect "the continuing impact of softer than expected volume trends in North America and Europe." For the third quarter, the number of six packs and two-liter bottles it sells in the United States "is expected to be down in a mid-single digit range." The culprit, according to president and CEO John R. Alm, was a "soft retail environment in North America."
Demand for beverages that pack a slightly harder punch apparently hasn't been much better. Anheuser-Busch, while generally upbeat about its prospects, noted that "from mid-June through August, however, consumer demand for beer slowed." As a result, "Anheuser-Busch's sales-to-retailers in the third quarter to date have declined 1.2 percent." Bummer. The company blamed the weather and higher gas prices.
Avon Products, presenting at the Prudential Conference, introduced a neologism as it highlighted unexpectedly weak U.S. sales. "U.S. sales in the third quarter are expected to be flattish versus the strong 7% growth in the prior-year period," the company said.
At Wal-Mart, the world's largest retailer, U.S. sales were likewise flattish in August. Same-store sales in the United States rose only 0.5 percent compared with August 2003. And May Department Stores last week reported that same-store sales plummeted by 6.7 percent in August.
What gives? If the economy is strong and getting stronger, sales at companies that cater to giant chunks of the population, like Coca-Cola, Wal-Mart, and Avon, should be growing, not flattish. Yes, gas prices are higher than they were a year ago. But too many companies are using the higher price of gas as a default explanation for disappointing results, in much the same way that many food companies have blamed the Atkins craze for falling profits. There may be an element of truth to the excuse, but other factors could be at work. People could be buying fewer cases of Bud because they're spending more on gas or because they're buying more Coors. And higher gas prices plainly haven't affected all America's iconic brands equally. As Americans continue to supersize themselves, McDonald's has been doing quite well.
Still, given the spate of earnings downgrades—and the dearth of broad-based consumer product companies that have been trumpeting better than expected results, as well as the recent sluggish pace of auto sales—it's hard not to conclude that many consumers are simply exhausted after years of steady binging and meager wage growth. Of course, not everybody is struggling through the lingering soft patch. Thankfully, some of our nation's most talented consumers are continuing to perform their wonderful work. Neiman Marcus yesterday reported an absolutely fabulous quarter, with same-store sales up more than 10 percent. And Coach, peddler of the $328 Hamptons Suede Carryall, reported that its current quarter is going gangbusters.
We're not hearing much about John Edwards' Two Americas these days. But the Two Americas shopping meme is alive and well.
---