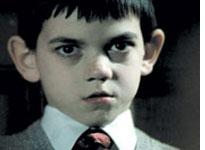 You know it's a hip awards show when one of the winners—asked to talk about his work for a pre-show discussion panel—walks on stage wearing raggedy flip-flops.
This is typical fashion at the Association of Independent Commercial Producers Show, which honors the best in television advertising. Several other winners wore Puma or Adidas sneakers (of course, they were models that, I'm quite certain, are not available in North America). And many a woman's high-heel strap bisected a small ankle tattoo.
The ad world has many awards (the most famous is probably the Clio), but the AICP honors go to the folks who actually make the ads. Directors, cinematographers, editors, and such. Thus the artsy vibe. And don't be confused: They're not looking to recognize the ads that actually work—the ones that might in fact convince you to buy things. (They leave that to the EFFIES. And yes, that name seems to be a tortured play on "effectiveness.") The AICP is all about honoring the commercial as genuine art form.
It's a slightly awkward stance. Certainly, these people (the winners, at least—or most of them, anyway) are gifted filmmakers, with panache and creativity to spare. But it's all in service of commerce. Veteran ad director Noam Murro, who received more awards than anyone else this year, talked somewhat poignantly about the limits of his work. "It's an uphill battle. You have these ideas in you that you want to get out. But ultimately you're just saying something about a company. I mean, it's Principal Financial," he said, alluding to a past campaign he'd worked on, "and there's a building with 200,000 executives in it … " He trailed off, leaving us to infer that it's not easy to throw your artistic soul into a tribute to a giant banking firm. Another director (the flip-flopped one) first presented a reel of his ad work and then screened a trailer for a documentary he's making about the culture of the American South, saying, "This is what the ads pay for."
So there was a little self-loathing in the air. But perhaps the show's site offered some solace. The cocktail party was held in the Temple of Dendur, at the Metropolitan Museum of Art, where tuxedoed men and slinky-gowned women were surrounded by ancient runes and sarcophagi. Remember: Those creative Egyptian dudes, back in the Ptolemaic period, were really just making three-dimensional stone ads to sell you on the fantastic-ness of various pharaohs.
party prescience But on to the awards: The most festooned ad this year (honored for advertising excellence, as well as visual style and cinematography) was a spot from the long-running "Got Milk?" campaign. It's titled "Birthday," and it centers on a dour-looking little boy—not unlike the Damien character from The Omen films—who is able to predict the near future. Riding in the back of a long black sedan on a gloomy, rainy day, he suddenly (and calmly) says, "Stop." His driver obliges—just before a dog runs across the road. Later, the boy arrives at a birthday party in some sort of gothic manor, replete with dark wood paneling and eerie staircases. "Don't eat the cake," the boy gravely warns the other children, who are poised, forks in hand, to begin chowing down. Moments later, a bloodcurdling scream is heard from the kitchen. A woman runs out, shaking an empty carton: No more milk! The spot is clever and superbly executed—it totally nails that brooding, horror film mood.
intimidating invitation The two other ads winning highest honors for advertising excellence: an Adidas spot titled "Wake Up Call," in which the Chinese women's soccer team shows off its crazy, choreographed skills (as the American team looks on, ready to rumble); and a spot called "Water Cooler," in which the bottled-water industry praises HBO for creating shows that have people chatting around the water cooler (thus dramatically upping water usage and industry profits). The soccer spot is OK—lots of cool ball-control tricks—but I really didn't get why the judges loved it. Just seemed like another well-done sports ad. Perhaps it rode the coattails of its director, Lance Acord, who was cinematographer for the superhip feature film Lost in Translation. Likewise with the water-cooler spot—I didn't quite get the appeal. It seemed like a single joke (and not a particularly brilliant joke) that got stretched out way too long.
here Other notables: An American Express ad, in which Martin Scorsese savagely critiques his own photos (of his nephew's birthday party), won in the dialogue or monologue category. A Bud Light ad titled "Mr. Giant Taco Salad Inventor"—it salutes anyone who can pack "12,000 calories" into a salad—won for humor. Coors Light's "Wingman" spot won for original music (with a song about the noble sacrifice of the wingman, who chats up an unattractive woman while his buddy scores with her hot friend). And HP won honors in visual style, for a digital photography ad set to the song "Pictures of You" by the Cure. (One woman at the show, who works as a film editor on ads, told me this was her favorite spot of the year because the imagery and music are "incredibly romantic.")
If this show was an indication, top award-getter Murro is by far the hottest talent right now in the industry. He directed both the milk ad and the water-cooler ad, as well as a Volkswagen spot ("The Story of Ben," about a guy with an outsized accelerator foot) and a Morgan Stanley spot ("Kevin," about a guy holding a board meeting with the many sides of his personality), which each received honors. Murro, an Israeli immigrant, is a sort of sloppy, corpulent fellow, with an offhand and vaguely depressive manner. He took time to mention that Hollywood produces just as much unworthy trash as the ad biz does and complained of dealing with 21-year-old studio execs, "right out of Harvard, who want to tell you how to block a shot." (Murro recently quit his job as director of The Ring 2—which was to be his first feature film—over the proverbial creative differences.) While his work in ads has brought him to the very top of the industry, there's still an inferiority complex when talk turns to big-budget movies.
But perhaps it's all moot. At one point I overheard an ad exec singing the praises of his TiVo and his XM satellite radio. Why? "Because they cut out all the commercials. They may put me out of a job, but they're fantastic."
---