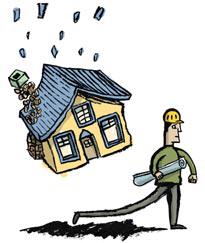 When the housing bubble pops, who will burst with it? The last time housing prices fell sharply—in the late 1980s and early 1990s—the slump laid low real estate brokers, mortgage bankers, and, especially, developers.
But this time around, strangely, large, publicly held home-builders may escape the worst damage. They're a case study in how an industry can become more stable when it gains geographic scale and public ownership. During the tech bubble, executives and the stock market acted crazy while customers buying tech products behaved rationally. In the housing bubble, by contrast, the customers are acting crazy, while executives and the stock market are behaving rationally.
Development used to be almost entirely a local business, but the housing boom is driven by huge, publicly held, diversified builders such as Toll Brothers, Pulte, Centex, and KB Homes. Today's national builders are a lot more financially sophisticated than yesterday's local developers. Instead of borrowing cash from banks and putting up houses that they hope people will buy, as local developers used to do, they acquire big chunks of land, plot out subdivisions or planned communities, put up model homes, and then try to convince buyers to commit to an unbuilt house. High-end builder Toll Brothers won't start construction until a client signs a contract and puts down a nonrefundable deposit of 7 percent to 10 percent of the purchase price. Toll Brothers' forfeiture rate has been less than 5 percent for the past two or three years. If a buyer walks away, the company keeps the deposit and puts the house on the market. At Pulte, which builds more modestly priced homes, the cancellation rate is 13 percent.
Many big homeowners now protect themselves through geographic diversification, too. There is no national real estate market, just a collection of idiosyncratic local ones. A decade ago, building houses in one state or county—the classic developer model—meant you were vulnerable to a downshift in the local economy. Today, homebuilders operate all over the country. Pulte builds in 27 states. In Lennar's most recent quarter, sales were divided among the eastern, central, and western regions of the United States.
The builders have responded calmly to the massive demand. Toll Brothers, which builds McMansions and McCondos for hard-working professionals (average price: about $550,000), in the quarter ended on April 30, 2004 saw new contracts rise 73 percent from the year before. It has 6,225 homes worth $3.7 billion under contract but not yet completed. WCI Communities, a Florida company that builds "highly amenitized lifestyle communities" (Del Boca Vista Phase IV!) is also going gangbusters. In the last quarter, new orders rose 152.3 percent to $456.5 million. Things are going well on the lower end, too. Pulte, whose average home sells for about $276,000, in its most recent quarter saw new orders rise 31 percent. Its backlog—17,664 units worth $5.4 billion—is up 50 percent in dollar terms from the previous year.
But the builders have catered to the demand without overbuilding. Manufacturing new houses isn't like manufacturing shoes—you can't just double production in a few months by running the factory around the clock. Building requires finding land, negotiating the intricacies of zoning, and gaining permits, and overcoming the opposition of environmentalists and local interests.
When markets for products are hot, manufacturers tend to ramp up production exuberantly. And that can contribute to a rapid buildup of inventory, which is frequently the precursor to a fall.
That hasn't yet happened with housing. The most recent data from the Department of Commerce show that, even as housing prices have skyrocketed, inventories of new homes remain rather low. Table 3 shows that in March 2004 there were 372,000 new houses for sale in the United States. That's actually fewer than were available in December 2003. Of those, 69,000 were not started, 225,000 were under construction, and 78,000 were completed. The last category—houses that builders have already paid to construct but haven't sold—is the one to watch. If a bubble were on the verge of bursting, that figure would be climbing. But the figure is lower than it was a year ago and about the same as it was six years ago, when the housing market was tame.
This is not to say that housing prices aren't high. They're expensive in part because there hasn't been the sort of overbuilding one would associate with a boom. The tight supply has pushed prices up. Meanwhile, many of the builders sport price-to-earnings ratios of about nine and pay small dividends—hardly the characteristics of bubble stocks. There may be a bubble in housing, but there isn't one in the stocks of the home builders.
---