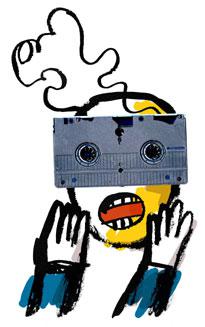 Mel Karmazin and Sumner Redstone, Viacom's gray and grayer management team, are giving away the store. For months, Viacom has been seeking to sell its 80-percent stake in Blockbuster, the publicly held movie-rental chain. But no willing buyer surfaced, so today Viacom announced tentative plans to divest its ownership of Blockbuster through a "split-off." In other words, Viacom might simply distribute its shares of Blockbuster to Viacom shareholders—whether they want them or not.
It's an ignominious unilateral divorce for a company that served Viacom so well—and has become one of America's most-recognized brand names. Blockbuster was founded in 1985, when VCRs were just becoming cheap, and grew rapidly. In 1994, Viacom, then in the midst of the battle for Paramount Communications, acquired Blockbuster, in large part for its predictable and prodigious cash flow. For debt-ridden Viacom, buying the chain was like buying an ATM. In Viacom's fold, Blockbuster grew to dominate the rental market. In 1999, Viacom sold 20 percent of Blockbuster to the public.
But things have quickly soured for Blockbuster. With remarkable speed, renting videotapes has become passé. Instead, buying DVDs has become popular. You can play them anywhere, on portable devices, in the minivan, on your laptop. You can burn copies with a computer or digital recording device. And DVDs are comparatively cheap. By the time you go to Blockbuster, rent a movie, and pay the late fees on the video you forgot to return, you're half way to owning a DVD. Driving to a video store—twice—to deal with a single movie is a supremely inconvenient transaction. For those eager to escape the hassle, Netflix has been a godsend. And soon, millions of consumers will simply download the movies they want over the Internet.
In 2002, sensing long-term decline, Blockbuster focused its rental business more on DVDs and also tried to sell more DVDs, videos, and video games. In 2003, VHS rental revenues fell from $2.2 billion in 2002 to $1.4 billion, off by one-third, but DVD rentals rose from $1.7 billion to $2.6 billion. And overall, merchandise sales grew smartly, from $1 billion in 2002 to $1.3 billion in 2003.
There are two problems with the new strategy. The first is margin. Selling DVDs may be a growing business. But it's inherently less profitable than renting them out. Blockbuster's margin on rentals is about 70 percent, while the margin on merchandise it sells is 20 percent. In other words, it is three and half times more profitable for Blockbuster to rent than to sell.
The second is competition. Plenty of other companies sell DVDs and games, including giants like Wal-Mart and Target that operate on razor-thin margins. So, over time, it's likely that Blockbuster's 20-percent margins will shrink further.And as specialty toy and entertainment retailers have found—Tower Records declared bankruptcy yesterday—it's tough to compete once Wal-Mart enters the scene.
At first blush, it would seem that Blockbuster—a big brand name that no longer fit into its parent company's plans—might have been a good candidate for a sale to a private-equity company like Kohlberg, Kravis & Roberts or Thomas Lee & Co. But private-equity buyers like to finance acquisitions with debt. And if a company's income is declining each year, and if it has huge fixed costs (Blockbuster has 8,900 stores), then debt can quickly become a huge burden. Even with interest rates low, Blockbuster apparently failed to attract any serious buyers.
For even though it seems like it's growing, Blockbuster's 2003 earnings report, released today, shows that it is in decline. In 2003, revenues rose 6.2 percent, in large part because the company added 224 stores. But worldwide same-store revenues decreased 2.2 percent in 2003. The company telegraphed that profits would fall about 10 percent in 2004, even as it promised to open about 400 new stores.
For nearly a decade, Blockbuster functioned as ballast for Viacom. Its steady cash flow helped keep the massive dreadnought buoyant amid turbulent seas. But now Blockbuster is acting more like dead weight, Viacom is pitching it overboard.
---