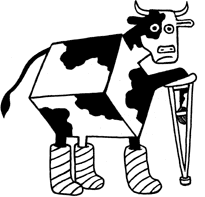 Gateway will report earnings today. If the past is any guide, they're likely to be disappointing, and they're likely to be accompanied by yet another shift in strategy.
In less than six years, Gateway has evolved from something relatively simple—it sold computers directly to consumers—into something more ineffable. Gateway now calls itself "a Branded Integrator with a growing range of its own products and services." It has also evolved from a giant corporation with huge ambitions and a massive stock price into a slowly fading quick-change artist. In fact, over the past several years, Gateway has dallied with more models than Donald Trump has.
Gateway got off to a glorious start. Starting in 1985, Ted Waitt, the ponytailed Iowan, parlayed a $10,000 loan guaranteed by his granny into a direct-sales PC company with a down-home brand image. In the 1990s, before Dell utterly dominated the market, Gateway 2000's boxes, with their distinctive cow spots, became ubiquitous. In 1996, the bull market supernova racked up sales of $5.04 billion and sold 1.9 million PCs. In 1998, Gateway shipped 3.54 million computers and reported revenues of $7.47 billion.
The company had prospered by sticking to a simple model—keep costs low by shipping straight to the consumer and by building operations in the boonies. But Gateway soon lost its way. First, as part of an effort to steal a march on rival Dell, Gateway began opening stores—places where people could see, touch, and feel (but not necessarily buy) the products. By the end of 1998 this "clicks and mortar" strategy had spawned 144 stores. That same year, as Waitt realized it was difficult to recruit big-time executives to North Sioux City, S.D., the company left the prairie for the San Diego area.
Ensconced in palmy Southern California, Gateway's executives must have started subscribing to Fast Company. For the aw-shucks business began to adopt New Economy buzzwords. In February 1999, seeing that PCs were rapidly becoming a low-margin business, Gateway unveiled the "beyond the box strategy." This involved selling technology "solutions"—software, service, and Internet access, for example—in addition to the hardware.
At the dawn of the millennium, Waitt stepped aside as CEO and assumed the more contemplative role of chairman. He was replaced by Jeffrey Weitzen. Gateway (it shed the "2000") laid out ambitious plans. By 2004, it boldly prophesied, revenues would rise to $30 billion. It inked deals with Sun Microsystems by "melding Gateway's hardware with Sun's end-to-end, Internet-based computing solutions." It made an alliance with the office-supply chain OfficeMax to "create nearly 1,000 new Gateway-managed, store-within-a-store distribution points."
Throughout 2000, the company continued to build furiously. The number of Gateway Country stores soared to 384. And Gateway pumped up PC sales by extending credits to its customers. But when consumer demand tapered off, the bloated infrastructure and easy terms on which the company had extended credit left Gateway exposed to a downturn. (Weitzen and other Gateway executives would later be charged with manipulating earnings in this period.)
In January 2001, after Waitt returned as CEO, the company moved quickly to close stores, slash jobs, and take write-downs for soured investments in other tech companies and for bad loans. Now Gateway would focus on its core business and continue to push services. It didn't work. Sales fell sharply, and the company reported a loss of more than $1 billion on the year. In January 2002, Gateway adopted a "value-pricing strategy," meaning it would compete with Dell and others directly on price, sacrificing profits for the sake of unit growth. It didn't work. Gateway lost nearly $300 million on sales of $4.17 billion in 2002.
Last year, Gateway again aimed to remake itself. In the first half of 2003, it slashed costs by shutting 80 stores. In the second half of 2003, Gateway rolled out dozens of Gateway-branded consumer products: digital cameras, DVDs, plasma televisions. And it remodeled its 190 or so remaining Gateway Country stores to accommodate the new merchandise and the new strategy of becoming a "branded integrator of personalized technology solutions." (Translation: it wants to be like Circuit City, or Best Buy, or Dell.)
Judging by the early results, this effort hasn't worked either. Earlier this month, Gateway said earnings would disappoint in part because it couldn't get its hands on enough of the new electronics gadgets that people wanted and because Dell and others were continuing to eat Gateway's lunch in the core PC business.
Shifting gears again, Gateway is now emphasizing big sales to businesses. On Jan. 8, it announced a deal to supply "approximately 7,000 customized Gateway-branded plasma and LCD TVs as well as hundreds of DVD players and other products" to the Wynn Las Vegas, slated to open in April 2005. "Certain suites will contain Gateway LCD TVs in 'his and her' bathrooms and Gateway DVD players in the wet bar area." (Apparently high rollers like to watch.)
It's a long way from PCs in South Dakota to DVDs in Las Vegas. And Gateway at 18 remains in the midst of a protracted identity crisis. The good news for Gateway shareholders is that the company still has more than $1 billion in cash and marketable securities. Although it has made poor investments, Gateway has generally acted swiftly to limit its losses. The bad news for shareholders is that Gateway's management has enough cash to continue the quest for the ultimate business model for another decade.
---