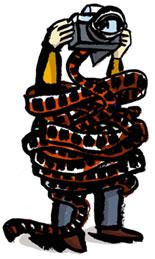 For the last several years, Eastman Kodak appeared prominently on the list of the Dogs of the Dow. Under the popular investment strategy, investors buy the 10 components of the Dow Jones industrial average with the highest dividend yields and hold onto them for a year. The idea is that a comparatively higher dividend stock signifies comparatively poor recent performance and that the veteran, stable companies that populate the Dow should, over time, return to mean performance. But for much of the past decade, Eastman Kodak has also been the Dog of the Dow—a low-performing and declining stock that has shrunk to irrelevance.
The masters of the Dow Jones Indexes continually evaluate the 30 members of the Dow Jones industrial average and upcoming outsiders to make sure that it includes only companies that are crucial forces in their sectors and in the economy. All four of the initiates tapped in November 1999—Home Depot, Microsoft, Intel, and SBC—meet these criteria. By the same logic, a Dow member whose industry leadership, sales, and market capitalizations are steadily atrophying may emerge as a candidate for expulsion. Eastman Kodak is in the process of being rendered obsolete by technological change, and management has been slow to develop a plan. With a market value of just $7 billion, the fabled company—a member of the exclusive club since 1930—is the lone minnow swimming among sharks and whales. (The average market capitalization of a Dow component is $105.8 billion, and the median is $73 billion.)
Eastman Kodak, 119 years old, has a glorious history. By inventing and brilliantly marketing new breakthroughs, founder George Eastman almost single-handedly democratized the camera and turned it into a consumer product. For nearly a century, his firm dominated the field with iconic innovations: the Brownie in 1900, Kodachrome film in the 1930s, the Kodak Instamatic in the 1960s, and disposable, recyclable cameras in the 1980s.Eastman Kodak benefited greatly from the postwar industrial hegemony of the United States. And the company remained fat and happy well into the 1990s under the leadership of George M.C. Fisher. In 1995, Eastman Kodak earned $1.25 billion on revenues of nearly $15 billion.
But like Xerox—the other ailing blue-chip imaging company based in Rochester, N.Y.—Eastman Kodak found its position seriously undermined in the 1990s by two forces. First, fierce competition from companies like Fuji left Eastman Kodak with little ability to raise prices for its basic commodity, rolls of film. Second—and perhaps more deadly—a technological revolution caught the erstwhile pioneer flat-footed. In the late 1990s the advent of ever-cheaper personal computers and digital cameras increasingly turned photography into a filmless enterprise.
Just as college students have replaced LPs and VCRs with digital files and CDs, younger shutterbugs are snapping digital photos, zapping them by e-mail, and printing them out on printers. With each passing year, the core audience forEastman Kodak's film, film paper, and the cameras that use them is aging and shrinking. The company's sales have fallen steadily since 1995, and between 2000 and 2002 slid from $14.5 billion to $12.8 billion. In the United States, Eastman Kodak's most important market, sales of photography products fell nearly 17 percent between 2000 and 2002. And a recovering economy hasn't helped much. For the first nine months of 2003, net sales were up just 1.5 percent.
As the age of everything digital dawned, the company seemed content to devolve from an innovator and consumer-products titan into a company largely content to milk existing businesses for profits. For even as a declining business, manufacturing, selling, and developing film is still profitable—it's just not growing. Charting a new direction and devoting the resources to make Eastman Kodak a leader in the digital film era would have meant making bold new investments, sacrificing short-term profits, and undermining the brand equity it has built up over a century. It would also have required some imagination—which seems to be in short supply in Rochester. Between 2000 and 2002, the company actually cut its spending on research and development, even as it maintained healthy dividend payments.
In September 2003, Daniel Carp, a 33-year Eastman Kodak veteran who became chief executive officer in 2000, belatedly unveiled a new digital-oriented strategy. The plan: cut costs and conserve cash from the film business, plow funds into research and development, bolster the consumer business with new digital cameras and printing applications, and push into markets such as commercial on-demand printing and medical imaging.
Carp has followed through.Last September, the company slashed its dividend by nearly three-quarters. Then it began to use some of the cash thus saved to buy new technologies. In short order last fall, it bought Laser-Pacific Media Corp., a Hollywood-based post-production company; acquired PracticeWorks, which makes dental digital imaging systems, for $468 million; agreed to pay $42.5 million for Algotech, another medical imaging company; and struck a deal to buy Scitex Digital Printing for $250 million.
But these small deals are the equivalent of throwing screen passes when you have to throw a Hail Mary. Thus far, Eastman Kodak has avoided making the massive investments in proprietary developments that could give it an edge, or sealing a truly transformative merger or acquisition. And the language coming out of Rochester is similar to the strategy-speak coming out of any of several companies that are—or want to be—in the same lines of business: behemoths like Hewlett-Packard, Dell, and Fuji. These companies possess one or both of the attributes that Eastman Kodak lacks: the willingness to commit greater resources to research and development and marketing, or the balance sheets and investor confidence to make transformative deals.
Without its legacy film and camera business, Eastman Kodak isn't much of a company. With them, it's a declining company. Unless the new digital strategy starts to pay dividends soon, the next time the Dow gathers to have its class portrait taken, Eastman Kodak could be—and should be—left out of the picture.
---