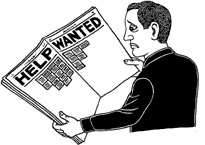 Feeling more optimistic about the job market? Check out the Conference Board's Help-Wanted Index. The 52-year-old index, which measures the volume of help-wanted classified advertisements in newspapers, stood at 36 in May (with 1987 as a 100 baseline), its lowest level since 1961, and off 50 percent from February 2001.
Should we care about this seemingly Jurassic metric? Surprisingly, yes. The Help-Wanted Index is oddly comforting, an economic gauge that seems archaic but remains incredibly useful. The index is derived from a medium that is slowly losing its audience. It ignores technological advances that have utterly changed what it is measuring. And it lost its bearings for a period in the late 1990s. (Truth be told, who didn't?) Even so, this dead-tree index is still vigorously alive.
Since the Truman administration (1951), the Conference Board has been diligently collecting information on how many help-wanted ads were sold by one newspaper in each of 52 representative labor markets. (One can envision rows of clerks with green eyeshades sitting by their Bakelite phones waiting to punch the latest numbers into their NCR adding machines.) At its inception, the surveyed cities—which included megaplexes like New York and Los Angeles and smaller burgs like Charlotte, N.C., and Omaha, Neb.—contained about half the non-agricultural employment in the United States. Today, the reports are filed by 51 newspapers representing the same areas (when the Newark Evening News went to newspaper heaven in 1972, the city was excised). And they are still representative of the national labor picture, despite the intervening demographic and population shifts. "My predecessors made sure individual regions weren't over- or underrepresented," said Ken Goldstein, an economist at the Conference Board.
It turns out the board's failure to adapt is admirable. The usefulness of a statistic lies in the fact that it doesn't change all that much over time. If you continually altered the mix of leading economic indicators, then you wouldn't have much basis for historical comparison. And with no easy way to measure job vacancies, help-wanted ads—which are easily tabulated by those who sell them—have emerged as a useful proxy.
There's an inverse relationship between unemployment and job vacancies, known as the Beveridge Curve, after the British economist who described it. The curve thus predicts that periods of comparatively low-volume advertising would coincide with high unemployment, and periods of comparatively high-volume advertising would coincide with low unemployment. (This paper has a good description and representation of the Beveridge Curve.)
The Help-Wanted Index shows that's pretty much been the case.The index fell from 100 in 1987 to the low 60s in 1991 and 1992—the depths of the last recession and jobless recovery—and then rose throughout the mid-1990s as payrolls swelled. But in the late 1990s, the neat Beveridge Curve began to get sloppy. Even as unemployment plummeted to record lows, the Help-Wanted Index never rose above its 1987 baseline of 100. It peaked in February 1999 and then faded amid the height of the frenzy. "We wound up with the anomaly of advertising volumes that were below the 1986 average, and yet a labor market tighter than we've seen in decades," says Ken Goldstein. His theory: The labor markets were so tight—and for so long—that personnel managers stopped believing that putting out another help-wanted ad for a Web designer was going to help.
Once the bubble popped, the historical relationship came neatly back into line. Since early 2001, more than 2 million jobs have been lost, unemployment has risen, and, as one might expect, the Help-Wanted Index has plummeted.
But those of us in the Internet business wonder if there was also a structural change that would explain why the index didn't top 100 in the late '90s. After all, people don't read newspapers like they used to. Job-seekers and potential hirers now have a range of outlets to choose from, many of which are cheaper than newspapers. A one-weekhelp-wanted ad in the New York Times costs $549 and lets you reach the 1 million or so print subscribers for seven days. A job-seeker has to pay $3.50 to get the Sunday edition, which has the most ads. A 60-day ad at Monster.com costs $305 and allows an employer to reach 15 million unique visitors per month. And a job-seeker doesn't have to pay anything to browse through the site's 800,000 job listings. Mediabistro has 297 media job listings—compared with none in today's Times. And virtually every company posts job openings on its own Web site.
But for all the audience and economic advantages it offers, the Internet has not taken much of a bite out of newspapers' help-wanted revenues. In 2002, according to the Newspaper Association of America, newspapers hauled in $4.38 billion from help-wanted ads. That's way down from the $8.71 billion in 2000. But industry types say it has more to do with the anemic economy than with the vigor of online competitors. Monster.com, the biggest online job site, reported $416 million in help-wanted revenues in 2002—less than 10 percent of the newspapers' total. And help-wanted revenues for both Monster.com and the newspaper industry fell by about 20 percent for the year. Besides, many of today's online ads are sold by … newspapers.
The Help-Wanted Index may have lost its utility as an absolute gauge. The number of help-wanted ads in newspapers has declined, so it will be hard to reach the '87 figure even in good times. But as a relative barometer, it remains as valuable as ever. When help-wanted ads rise, it takes a few weeks for people to respond, have interviews, and then get hired. That makes it one of the best leading indicators of employment we've got. Until the Help-Wanted Index perks up, don't expect payrolls to grow.
---