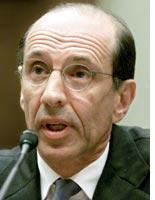 Contrite executive: Samuel Waksal, founder and former CEO of ImClone Systems.
Venue: The courtroom of U.S. District Judge William H. Pauley, New York, N.Y., June 10, 2003.
The road to contrition: In late December 2001, the charismatic, celebrity-friendly Waksal got wind that the Food and Drug Administration was about to hand down an unfavorable ruling on ImClone's flagship cancer-fighting drug, Erbitux. Ahead of the public disclosure, Waksal tried to dump as much of his ImClone stock as he could and suggested to family members—and, it is alleged, to his pal Martha Stewart—that they do likewise. The next day, ImClone's stock fell about 15 percent, from 55 to 46. In May 2002, as investigations into Waksal's stewardship of ImClone and personal finances heated up, and as ImClone's stock slumped into the single digits, Waksal stepped down from his post. He was arrested on June 12, 2002, on charges of insider trading, and in August 2002 was presented with additional charges of obstruction of justice and bank fraud. Ultimately, Waksal was accused of everything from illegally avoiding sales tax on expensive paintings to falsifying documents. In April, his brother, Harlan Waksal, who had succeeded him as chief executive officer at ImClone, stepped down as further questions were raised about ImClone's finances.
Deeds of contrition: Last October, in an effort to spare his daughter and 80-year-old father from prosecution, he pleaded guilty to six charges of securities fraud, bank fraud, conspiracy to obstruct justice, and perjury. In March 2003 he pleaded guilty to having fraudulently avoided sales taxes on artwork and reached a partial settlement with the SEC (including an $800,000 fine) over the insider-trading charges. Yesterday, Waksal received an 87-month prison sentence and was assessed more than $4 million in fines and back taxes.
Words of contrition: "I am deeply disturbed and so very sorry for my actions," he said at yesterday's sentencing. "I want to apologize to all the people who may have had confidence in me and whose confidence I betrayed." And: "To cancer patients I am so sorry for any delay I might have effected in the approval of Erbitux because of my actions." In a letter to the court, Waksal further wrote: "I tore my family apart. That punishment is with me every moment of the day. I dream about it."
So how contrite is he? Very. Sure, much of the contrition here is forced. But Waksal didn't contest the charges vigorously, or loudly protest his victimhood as he was handcuffed. (His violations of the law were so crude and flagrant that he didn't have much of a choice.) What's more, Waksal's professions of regret over the harm his family has suffered are genuine. It's one thing if your greed places you in legal jeopardy. It's quite another if your greed places your blameless daughter and 80-year-old dad in legal jeopardy.
Waksal earns style points for not stooping to self-pity, for managing to put in a plug for his company even while heading off to jail, and for slipping in a reference to Moneybox idol Lou Gehrig. ("I consider myself one of the luckiest people in the world," Waksal said.)
The great irony of Waksal's crime is that a CEO whose greatest skill was as a promoter was done in by what may have turned out to be misplaced pessimism. Erbitux may turn out to be a highly beneficial drug. (Last week, European researchers found that Erbitux might help really sick colon cancer patients live longer.) ImClone's stock has recovered to the high 30s. If he had simply sat tight and absorbed the short-term losses, Waksal might still be running ImClone, and his other financial misdeeds may not have come to light.
Overall grade*: 8.
*Graded on a 1 to 10 scale, where 1 is a full-denial Jeffrey Skilling and 10 is a tearful Japanese CEO resignation.
---