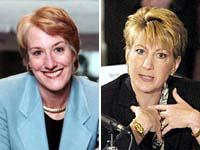 Xerox CEO Anne Mulcahy's good fortune and misfortune is that she has always been overshadowed by Carly Fiorina, CEO of Hewlett-Packard. Mulcahy and Fiorina are both closing in on 50 years old. Both are humanities majors, who rose through the ranks at large establishment companies in the '80s and '90s and were frequently tabbed as potential CEOs. They sport similar hairdos—short, blond, parted on the side. And each is leading a risky turnaround effort at a storied but troubled technology company.
But Fiorina, the first woman to head a Dow component, has already been the subject of two major books and countless magazine cover stories in 42 months as CEO. Fiorina starred in a flashy advertising campaign and engineered a high-stakes merger with Compaq over the objections of Walter Hewlett, son of company co-founder William Hewlett. But while Carly has become—like that other exemplar of blond ambition, Madonna—a mononym, Mulcahy has remained obscure outside the business world.
That's partly because H-P dwarfs Xerox in both revenues ($56 billion to $16.5 billion annually) and market capitalization ($50.8 billion to $6.3 billion) and partly because Fiorina has done a better job at cultivating a public image. But in some ways, Mulcahy's is a more compelling story line: Female lifer gets a shot to revive a fabled, male-dominated company. And while Fiorina's efforts have thus far disappointed shareholders—H-P's stock has declined about two-thirds since her arrival—Mulcahy's triage efforts have shown better results.
The story of Xerox's rise and fall is well-known. The Xerox 914 copier, introduced in 1959, transformed office work and turned Xerox into a charter member of the Nifty 50. But since the '70s, Xerox has been crippled by Japanese competition, its repeated failures to capitalize on innovations at the Palo Alto Research Center, and its sloth in embracing digital imaging.
Xerox's woes were aggravated by a bungled transformation engineered by Rick Thoman, an IBM executive who became Xerox's chief operating officer in 1997 and was elevated to CEO in 1999. Thoman tried to remake the company in the image of IBM by focusing more on software and consulting—and less on copiers—and disrupted Xerox's legendary sales force. When Thoman was booted in May 2000, Paul Allaire, who had led Xerox's brief '90s comeback, returned as CEO.
In October 2000, Xerox notched its first quarterly loss since the early '80s, and the Securities and Exchange Commission announced an investigation into the way Xerox accounted for equipment leases. The stock fell to about $7, off nearly 90 percent from its 1999 high. Burdened by a huge debt load and unable to raise funds in the public credit markets, Xerox appeared on the brink of bankruptcy.
Allaire didn't want to spend his golden years engaged in what would be a long-term turnaround. Enter Anne Mulcahy, who had joined Xerox as a sales representative in 1976 and rose through successively higher posts in human resources and operations. In May 2000, when Thoman left, she was named president and designated heir apparent.
Allaire and Mulcahy started to implement a textbook turnaround strategy: Raise cash by selling assets, slash costs (i.e., fire people), change some of the business practices that got you into trouble, and focus on what the company did well. At first, Mulcahy didn't seem a natural to conduct radical surgery. After all, she had never worked anywhere else but Xerox. Her husband was a retired Xerox sales manager, and her brother was a high-ranking Xerox executive.
But with Mulcahy increasingly taking the lead—she was named CEO in July 2001—Xerox slimmed down. The company sold its China and Hong Kong operations and raised $1.3 billion in March 2001 by selling half its stake in a joint venture with Fuji.
Mulcahy also proved willing to make tough decisions. In June 2001, she went to Rochester, N.Y., to shut down the unit that made desktop inkjet printers—a business she had supported. Soon after taking the reins, she eliminated the dividend and announced that Xerox would seek to spin off PARC as a separate company.
Xerox's financial problems—and the SEC accounting investigation—stemmed in large part from the way it accounted for customer leases on copiers. (The then-revolutionary tactic of leasing rather than selling copiers is what enabled Xerox to grow so rapidly in the '60s.) Mulcahy moved to sell off chunks of payments expected from existing leases and struck agreements to have other institutions finance new leases for customers in Latin America and Europe. Last April, she cut a deal with the SEC, paying a $10 million fine and restating results from 1997 through 2001.
These efforts created breathing space. Xerox is profitable again, but it's by no means safe. The company's fortunes are still tied to the future of information technology spending, which shows few signs of recovery. With growth elusive, Mulcahy last fall cut 2,400 jobs.
Fiorina got into trouble by making promises early in her tenure that the company couldn't keep. By contrast, Mulcahy has set out modest goals. Last fall, she said that by focusing on its core office and services businesses, Xerox could see revenue grow at a 5 percent annual clip for the next three years.
Mulcahy may not be getting much recognition for her efforts in the publishing world. But the market is taking notice. Because she hadn't worked in finance, Mulcahy wasn't tarnished by the accounting problems. Xerox's stock is a few percentage points higher than where it was when she came in, and it has nearly doubled since October 2002. That such a performance is worthy of note may be a sign of how the standards for CEO excellence have declined. But there are plenty of other CEOs—male and female, probably including Fiorina—who would gladly swap their own recent stock charts for Xerox's.
---