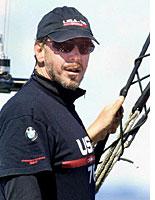 Life offers regrettably few opportunities to laugh at billionaires, so it's a shame that so few Americans are following the America's Cup preliminaries under way in New Zealand. At least three of the world's richest men are about to be publicly humiliated in the waters off Auckland. Such a delightful spectacle should not pass unnoticed.
At stake is the Louis Vuitton Cup, which presumably comes in an especially handsome leather case. The Vuitton winner gets to challenge the defending champion, Team New Zealand, for the America's Cup, the greatest prize in yacht racing. The America's Cup is such a magnet for magnates that four of this year's nine challengers were backed by billionaires. The quarterfinals concluded last week, and only the four billionaire boats advanced to the semifinals.
For the hoi polloi, the perennial appeal of this periodic regatta is that it attracts egomaniacs who spend freely and then lose badly. Sometimes they even win badly: Ted Turner famously showed up drunk at his victory press conference in 1977 after winning the cup with Courageous. Turner was very amusing, but he did not really fit the laughable-billionaire pattern. For one thing, he won the cup during his pre-billionaire days, before he founded CNN. And he won it by skippering his own boat. Most sea-going plutocrats serve mainly as ballast when they're not writing checks.
Turner was the last true amateur to win the cup. Dennis Conner ushered in a new era when he triumphed in 1980 by professionalizing the competition. Nowadays America's Cup fans can't even root for a boat by name because most of the syndicates build two hulls, each designated by a number. The emphasis is on technology and management, both of which are readily obtained by writing a big check to the right person. Conner was skunked 4-0 in the quarterfinals this year by the OneWorld team, which was backed by not one but two billionaires, cell-phone impresario Craig McCaw and Microsoft co-founder Paul Allen.
McCaw is an earnest fellow from Seattle with an environmentalist agenda—the OneWorld Web site proclaims the team's ambition "to win the oldest trophy in sports in the name of the health of the world's oceans." McCaw is well-known for having helped save Keiko, the Free Willy killer whale, by bankrolling a program to return the captive orca to the wild.
Alas, the collapse of telecommunications stocks over the past two years has helped slash McCaw's fortune from $7.7 billion to a paltry $2.3 billion (as estimated by Forbes). That put something of a crimp in McCaw's do-gooder budget, so he brought in Allen to keep OneWorld funded at a respectably obscene level. But now a protest filed by other syndicates accuses McCaw's team of using some of its rivals' design secrets. If the protest is upheld this weekend, OneWorld presumably will be scratched, and the syndicate will have spent an estimated $75 million without even making the semifinals.
That outcome would delight the other American billionaire in the regatta, Larry Ellison, chief executive of Oracle and sometime helmsman of the Oracle BMW Cup entry. Ellison for years has been trying to stick a harpoon in his rival Microsoft and surpass Bill Gates as the world's richest man. He came close two years ago when his fortune topped out at $58 billion, just behind Gates and well ahead of Allen. Now Ellison is down to $15.2 billion and has slipped behind Allen, Warren Buffett, and a whole passel of Wal-Mart heirs in the Forbes "richest American" rankings. If the Allen-backed OneWorld outperforms Ellison's boat in the semifinals, which begin next week, the Oracle chief will be very unhappy. His team has the biggest budget—estimated at $95 million—and Ellison expects a return on this investment.
To the delight of spectators and, presumably, Oracle staffers, Ellison's new boat captain has turned the tables on him, treating him the same way Ellison treats his underlings. In his typical samurai management style, Ellison fired his skipper Peter Holmberg after Oracle BMW lost an early race. Ellison then reinstated Chris Dickson, whom he had fired months earlier. The new captain promptly brought Holmberg back as helmsman and banished Ellison himself to the beach. Oracle BMW has been on a winning streak ever since. Ellison is notoriously unable to cede authority to subordinates, so it's hard to see him staying ashore for long.
Patrizio Bertelli is the piker in this billionaire boys' club. His wife is fashion designer Miuccia Prada, whose fortune Forbes pegs at a mere $1.1 billion. The Prada team spent a reported $50 million to win the last Louis Vuitton Cup competition, only to be shut out 5-0 by Team New Zealand for the America's Cup. This year Prada is back with an even bigger budget. But Bertelli, a tempestuous sort, already has fired his high-priced boat designer and taken on that role himself, apparently on the theory that boat design is not much different from handbag design. Prada actually improved its performance after Bertelli's tinkering.
But Prada is unlikely to beat Alinghi Swiss Challenge, the syndicate that's the betting favorite to win the Vuitton Cup. Ernesto Bertarelli, the Swiss biotech tycoon whose family is worth $8.4 billion, has turned landlocked Switzerland into a maritime power. He has spent freely to hire veterans from New Zealand's 2000 America's Cup champion boat, including Kiwi skipper Russell Coutts. If Bertarelli does end up wresting the America's Cup from New Zealand, Coutts and his Kiwi teammates may have to seek asylum in Geneva.
All four of the big-budget syndicates have done well so far, but only one can win the Vuitton Cup. That means at least three chagrined billionaires will soon be going home empty-handed. And even the Vuitton winner may end up no better off since Team New Zealand remains favored to retain the America's Cup. The four billionaire-backed syndicates would have nothing to show for their collective expenditure of at least $300 million. The rest of us would cackle with glee.
The losing billionaires can take some comfort in the famous dictum of J.P. Morgan: If you have to ask the price of a yacht, you can't afford one. Ol' J.P. himself was a prominent investor in several America's Cup entries. Nobody ever laughed at Morgan, but then all the yachts he backed were winners.
---