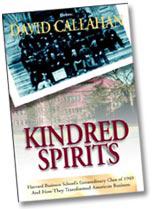 Sick of all the bad news about corporate crooks—those Wall Street Journal exposés with their (accurate) descriptions of renegade CEOs, rogue managers, and self-dealers? Check out David Callahan's highly readable book, Kindred Spirits: HarvardBusinessSchool's Class of 1949 and How They Transformed American Business. These men—they were all men in Cambridge those days—grew up in the Depression, came of age as World War II soldiers, and, with the assistance of the GI Bill, rushed through Harvard's graduate school of business, eager to get on with their productive lives.
"Hard work. Sacrifice. Loyalty. Patience. Humility. These were the values that 49ers identified with," Callahan writes. "They came of age believing that success grew from discipline and sacrifice, from ingenuity and building businesses that produced things of real value, from loyalty to partners and subordinates alike, and from creative risk taking." (Cue Band of Brothers soundtrack.)
Kindred Spirits is being welcomed as a reminder of traditional business virtues for our crass executives, but it is also an object lesson in how much tougher it is to be a businessperson than it used to be. The book is a class portrait of what Fortune later dubbed "the class the dollars fell on." Of its 700 or so members, one-third became CEOs, and the rest became senior managing directors and senior vice presidents, with the odd entrepreneur, politician, and filmmaker thrown in for color. Among those whom we meet as twentysomethings and follow into their Geritol years are James Burke, who led Johnson & Johnson, Xerox CEO Peter McColough, Capital-Cities/ABC media titan Tom Murphy, casino entrepreneur Jack Davis, retailer extraordinaire Marvin Traub, value stock investor Bill Ruane, and onetime SEC Chairman John Shad.
By and large, the'49ers are a pretty appealing group, especially in comparison with today's lot. But difficult as they had it in their youth, these guys had it comparatively easy in their professional lives. As they punched their tickets at middle-management jobs and graduated to the executive suite, they didn't have to contend with many of the powerful forces that make life tough for today's highly compensated CEOs.
Every member of the Class of 1949 possessed something extremely rare: an MBA. Only 3,000 people were awarded MBAs, compared to 111,000 in 2000. The business world was wide open for the class of '49.
The overwhelming majority of '49ers entered established corporations, joining the ranks of the Organization Men. The industries they entered were effectively closed to the vast majority of Americans. 1950s Corporate America was populated almost exclusively by white, usually Protestant, males. As they ascended the managerial ranks of banks, insurance companies, investment firms, and manufacturing companies, the '49ers faced no competition from women, blacks, Asian-Americans, or ambitious immigrants from India, Russia, or China. Nor did they have many Jewish colleagues. Of the three Jewish '49ers featured prominently in Callahan's book, two—Lester Crown and Roger Sonnabend—worked in family businesses. The third, Marvin Traub, toiled in the historically Jewish garment industry. On their way up, the '49ers didn't encounter many Sandy Weills and Michael Bloombergs—scrappy guys who came into the office before everybody else and left after everybody else—or steely, polished salespeople like Carly Fiorina.
The '49ers also had the good fortune to reach the top in the '60s, when U.S. businesses were unstoppable. In the so-called Go Go Years, the United States bestrode the world as a colossus, largely sheltered from foreign competition. Japan and Germany were still recovering from the war. The low-cost offshore competitors that harass American firms today—India for software, Taiwan for hardware, Mexico for cars—weren't factors. Throughout the '60s, American companies with American factories continued to produce the vast majority of radios, televisions, telephones, cars, and appliances used by Americans.  Backed by a strong dollar and the United States' superpower status, American multinationals like Johnson & Johnson could acquire foreign firms, muscle their way into foreign markets, and guard the booming domestic market for themselves.
The '49ers also came of professional age when American capitalism was far more gentle than it is today. While a few class members became entrepreneurs—the concept of entrepreneurship was barely taught at Harvard in the 1940s—most went to work for large corporations. In the '60s and '70s, there was little venture capital, IPOs were rare, and junk bonds didn't really exist. In other words, there were few ways for ambitious upstarts to raise the funds necessary to wage war against entrenched incumbents. McColough's Xerox introduced the 914 copier in 1959 and then had this highly profitable market virtually to itself for more than a decade.
By the time the creative disruptors came around in the '80s and '90s—the leveraged buy-out and serial acquisitions artists, the venture-capital-backed disintermediators—the '49ers were already on their way out. Marvin Traub's storied career at Bloomingdale's ended soon after Canadian raider Robert Campeau took over the parent company and promptly drove it into bankruptcy.
The undeveloped capital markets also benefited the '49ers in other ways. Throughout the '60s and '70s, the idea of shareholder democracy was undeveloped. Activist investors and proxy battles were rare. As a result, CEOs had far longer leashes—and far longer tenures—than they do today. Xerox spent 11 years trying to commercialize the technology that became the 914 copier, racking up losses as it failed to bring a product to market. In today's economy, a publicly held company wouldn't have that much time. And even as McColough made a series of legendarily poor investments and missteps—failing to commercialize the computer technology developed in its Silicon Valley laboratory, for example—he remained secure in his post. Today, missteps get punished fast. (Indeed, that's why many of today's CEOs behave as if they are at an all-you-can-eat buffet with a 15-minute time limit.)
Callahan doesn't succumb to the temptation to brush over the '49ers' sins and failures. Lester Crown was involved in a bribery scandal in the 1970s, and one of his companies, General Dynamics, was a cesspool of shady business practices in the early '80s.
By and large, however, the '49ers had their heads on straight. They served their country, worked hard, and made important contributions to American business. But they were also fortunate to be born at the right time.
---