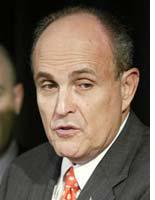 Can Rudy Giuliani really run WorldCom?
David Matlin seems to think so. Matlin, a former bond trader at Credit Suisse First Boston, has been buying up WorldCom's distressed debt and is starting a fund with the ex-New York mayor. The plan: Raise cash from big investors, snap up enough of WorldCom's debt to stage a hostile takeover of the bankrupt company, and install Giuliani as chairman.
The prospect of Giuliani running WorldCom—like the investment in distressed bonds itself—is still highly speculative. Matlin would first have to raise a $1.3 billion war chest, then successfully outwit other potential bidders for control of the company, then strike a deal with other creditors to resolve their claims, and then convince Giuliani, who is currently earning a fine living as a speaker and author, to devote a significant chunk of his time to the new venture.
But let's say it does happen. Giuliani would seem a strange choice to run a bankrupt telecom firm. According to the Wall Street Journal, Matlin was led to Giuliani in part because he wanted a "saintly person." (Only someone who has spent his career as a bond trader would think the notoriously prickly Giuliani qualifies as a saint.)
There are non-metaphysical reasons for finding such an appointment odd. After all, WorldCom just hired a new, high-profile boss: Last week former Compaq CEO Michael Capellas was named WorldCom's CEO and chairman. Giuliani has no experience in telecommunications or in running a profitable business. Even discounting the effects of Sept. 11, Rudy left Mayor Michael Bloomberg with a gigantic deficit. And it's hard to imagine the Upper East Sider spending a great deal of time at WorldCom's Clinton, Miss., HQ.
But Matlin is after Giuliani for classic rent-seeking reasons. Aside from helping clean up WorldCom's image in the wake of its $9 billion accounting fraud, the popular Republican would bolster WorldCom's status as a government contractor, which may be its key to survival.
WorldCom needs Uncle Sam more than Uncle Sam needs WorldCom. In recent years, telecom customers—individuals and companies—have proved their willingness to switch providers at the drop of a hat. Lured by lower rates and gimmicks, businesses and households defect from AT&T to WorldCom's MCI (and back again) without any discernible difference in service. The business is so cutthroat because everyone is supplying the same commodity at more or less the same price.
Government bureaucracies, however, are far less nimble. They hesitate to make such changes, even if it means lower costs. (According to Government Computer News, it can take a federal agency two years to switch telecom providers.) Federal agencies are notorious for not being particularly price sensitive when it comes to suppliers—remember $400 hammers? And the government always pays its bills. So in a time of excess capacity, vicious price competition, and frequent customer bankruptcies, the government is the best customer a telecom can have.
WorldCom does a great deal of business in Washington. Last summer, as WorldCom's then CEO John Sidgmore tried to ward off an indictment of the entire firm, he repeatedly tied the survival of the corrupt enterprise to national security. "The United States itself has a major stake in our survival," he told Congress on July 8. WorldCom, he noted, provides customer service to 80 million Social Security beneficiaries, "air traffic control applications for the Federal Aviation Administration, network management for the Department of Defense, and critical data network for the U.S. Postal Service." It also carries the voice and data traffic of the House, Senate, General Accounting Office, and various other agencies dealing with law enforcement and security. In fiscal 2002, government business accounted for 6 percent of WorldCom's total revenues—$1.7 billion out of approximately $30 billion. But with WorldCom's other business shrinking, the American taxpayer could soon provide more than 10 percent of the company's revenues.
After the mammoth accounting fraud was revealed, some in Congress called for the government to cancel its contracts with WorldCom—just as it did with Arthur Andersen and Enron. That would have been disastrous to what remained of WorldCom's balance sheet and public image. But even as it lost chunks of business to competitors with stronger balance sheets and less-sullied images, WorldCom has managed to hold on to its government contracts. Last week, the GSA extended for a year the company's deal to provide basic telephone and Internet services—along with Sprint—to federal agencies. And in October, the General Accounting Office rejected competitors' pleas to take away a $450 million Pentagon contract to operate a classified scientific research network, even though the GAO concluded that WorldCom had supplied"grossly inaccurate financial information." (One of those competitors was similarly disgraced—Global Crossing.)
Remaining in Washington's good graces is plainly critical for WorldCom's survival—regardless of who controls the firm. These days, when the roster of telecom vendors resembles the FBI's Most Wanted list more than the Fortune 500, having Giuliani onboard would be a huge plus. Imagine how effective he'd be on a sales call at the Pentagon or at an FCC meeting. In Chairman Rudy, WorldCom would have an eloquent spokesman who can credibly discuss the need to preserve—and enhance—WorldCom contracts for the sake of national security and homeland defense.
Of course, such a call would be as spurious as it was when Sidgmore made it. After all, much of what the company provides is a generic commodity. It's hard to believe that national security would suffer if the Senate's voice traffic was carried by SBC, or Verizon, or Sprint. Nonetheless, such a claim by Giuliani would surely find a receptive audience among the scores of Republican representatives and senators for whom Giuliani raised funds and campaigned.
Were he to parachute into a top corporate post, Giuliani would be acting in the finest bipartisan tradition of what Michael Lewis dubbed "access capitalism." For its lucky practitioners—see former CEO Dick Cheney—access capitalism offers the ability to generate great wealth without meaningful risk, investment of time, or managerial skill. In its first year, Rudy's firm, Giuliani Partners, has already inked several deals with governments and firms seeking to do business with governments. This is a refrain Giuliani should remember from his beloved Broadway: How to succeed in business without really trying.
---