Here is an excerpt from a recently produced corporate video. Let's see if you can guess what firm it's about.
"What are we? Who are we? What do we stand for? We make things happen. … We integrate and collaborate. We deliver on our promises with an attitude of 'whatever it takes.' We measure our success by the success of our clients. … We have a presence, an intensity. … What we have not changed is our mind-set—the desire to get it done. … It's who we are. We're fast, nimble, smart, innovative, flexible, responsible, and honest. We know how to think on our feet. And make it happen. Now. … We don't walk. We run. But with a purpose. A mission. … "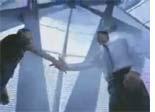 Unless by some strange chance you've already seen the video, it is of course just about impossible that you can guess the right answer, because the firm is basically making a claim on a grab-bag of attributes that every company, large or small, aspires to. It could be IBM, a political polling organization, or a two-person design shop. It's actually such a litany of meaningless clichés—"We don't walk. We run."—that it blows right past vagueness and into a realm that's pretty close to self-parody. If you'd like to see the actual video, to get the full effect of the earnest voiceover and the images of professionals with briefcases and so on, click here.
The answer is BearingPoint, a consulting firm. The firm isn't new, but the name is: BearingPoint used to be KPMG Consulting. The point of the video and the related "rebranding campaign"—which includes television, print, and direct mail advertising—is to make the apparently contradictory points that a) the new name is an exciting development, and b) the company is as great as ever, so the new name doesn't really mean anything.
I think by now most of us expect campaigns related to name-changes to be filled with hooey—a lot of soaring rhetoric that attempts to make a corporate moniker transplant seem as momentous, and fundamentally noble, as the Gettysburg Address. In the case of BearingPoint, one of the underlying themes is the firm's uncompromising honesty. Apparently the best way to express that honesty is not just with cookie-cutter phraseology, but with cookie-cutter phraseology that glosses over the most pressing reason for the name change itself.
KPMG Consulting was spun off from KPMG, the accounting firm, in 2000 and was not at first in any great hurry to rebrand. When Arthur Andersen's consulting arm was spun off a few years back, it was actually obligated to come up with a new name in short order and was estimated to have spent an astonishing $100 million devising and pushing its choice, Accenture. (This of course turned out to be a lucky break when Andersen became synonymous with scandal.)
By March of this year, things had changed: Solving all the problems of corporate chicanery seemed to boil down to forcing accounting firms out of the consulting business. So a KPMG Consulting spokesman touted the vast "brand equity" and proud legacy of its erstwhile parent before concluding, "It's better to make a clean break of it as soon as possible." And so now we have BearingPoint, an all-new brand name whose creation and the attendant paid-for publicity will run the firm a reported $45 million or so.
Luckily, they knew how to think on their feet in a fast and nimble way. They didn't walk, they ran–as fast as they could, from KPMG and the accounting business generally. Maybe the rebranding effort isn't totally honest about that. But they were certainly flexible. And the important thing is, they made it happen.
---