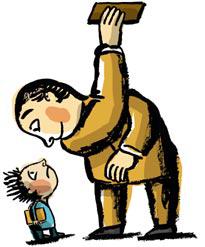 In the wake of the Wall Street scandals, state and federal officials have emerged as loud, if not always effective, advocates for shareholders, leading a charge to recover the billions lost to corporate chicanery. But in the case of Hershey's aborted effort to sell itself, Pennsylvania officials may have succeeding only in depriving shareholders of billions of dollars in value and undermining one of the most creative schools in the nation.
Yesterday, the Milton Hershey Trust, the charitable foundation that owns a controlling interest in Hershey Foods Corp., reversed its July decision to put the massive candy company up for sale. The trust was acceding to the demands of local officials, especially Pennsylvania Attorney General Mike Fisher, a Republican candidate for governor. The episode stands as a dismal instance in which new-style public-sector paternalism trumped old-style private-sector paternalism.
Hershey, Pa., (population 13,000) is a quaint company town of the type that once thrived throughout the Midwest. Milton S. Hershey started making chocolate in 1903 in Derry Church, in the heart of Pennsylvania dairy country. As he grew more successful, Hershey built a planned community around his factory, complete with water, sewage, telephone systems, trolleys, libraries, a botanical garden, a theater, and an amusement park.
Hershey was one of the first practitioners of welfare capitalism, a Progressive Era practice that had its heyday in the 1920s. Large companies like Hershey took an interest in the quality of life of their employees, creating benefits programs and investing in occupational safety and health programs.
In 1909, Hershey and his wife, Catherine, who had no children, created the Hershey Industrial School, a tuition-free institution that would provide orphans with the structure and education—moral and vocational—to become productive citizens. Four boys enrolled in 1910.
In 1918, Milton Hershey gave $60 million worth of stock in still-private Hershey to the Milton Hershey School Trust. Bolstered by the endowment, the school grew quickly and expanded to serve girls as well as poor children with living parents. The school was modeled more on Jane Addams' Hull-House than on Phillips Andover. From 1910 to 1953, students signed an indenturing agreement, under which custody was officially transferred to the school and the child was required to provide labor or work in exchange for room, board, and tuition.
Today, the sprawling campus, with its state-of-the-art facilities, is equal parts The Truman Show and Boys Town. It still caters to poor children, about two-thirds of whom hail from Pennsylvania. (The average taxable income of the families whose children were admitted in 2000 was less than $5,300.) The tuition-free school still aims to act literally in loco parentis, with healthy doses of character education.
The school's 1,100 students, from kindergarten through 12th grade, are placed in simulated families. They live in one of 117 houses with several other students of different ages and a house-parent couple. Every kid has a bike, which he or she can pedal to the newly constructed Town Center, a grassy circular area modeled on "the world's timeless community gathering spaces, such as the town center of Siena, Italy, the Agora in Athens, and St. Peter's Square in Rome."
The Milton Hershey School Trust today counts assets of about $5.9 billion, about 58.6 percent of which is in Hershey's stock. But this concentration posed a dilemma for the school's trustees, who want to expand the program to accommodate 1,500 students.
Reliable, dividend-paying stocks have long been referred to as "widows and orphans" stocks. And since going public in 1927, Hershey has been a fantastic orphans stock. It has outperformed the S&P 500 over the past 15 years and still pays a dividend of about 2 percent.
But financial advisers routinely advise individuals and institutions with large pools of money to diversify. The implosion of many blue-chip stocks in recent years has pounded that message home to institutions with concentrated positions. The Packard Foundation, with most of its assets concentrated in the stocks of Hewlett-Packard and HP spin-off Agilent, lost nearly two-thirds of its value in 2001.
A similar fall in the value of Hershey's stock would certainly put the kibosh on the school's expansion plans and could affect its ability to carry out its mission. That was probably one of the reasons that Attorney General Fisher last December suggested that the trust consider diversification.
To reduce its Hershey holdings, the trust could sell blocks of shares slowly into the open market, or it could sell its stake all at once. By choosing the latter course, the trust would effectively sell not just its stock but control of the company. And in that instance, it would be more likely to receive a premium for its holdings.
Selling out is plainly within the rights of the trust, which has iron-clad control over the company—just as Milton Hershey intended. So in late July, the trust informed the company's management of its intention to sell. The top brass wasn't pleased, but it quickly hired investment bank UBS Warburg to market the company.
As rival companies were conducting their due diligence, several local interests—Hershey stakeholders, not Hershey shareholders—registered their opposition to any proposed sale. Local politicians feared the potential job loss, reduction of the local tax base, and the diminishment of the town's stature that would doubtless result from an acquisition. Today, about 6,200 of Hershey's 14,000 employees work in the town. The Hershey School's alumni association formally opposed any deal, saying it had the potential to harm the unique community. Yard signs opposing the sale sprouted up.
Now that he was running for governor, Attorney General Fisher no longer saw the benefits of diversification. In late August he asked a local court with jurisdiction over charitable trusts to halt the sales process temporarily. Judge Warren G. Morgan of the Orphans' Court division of the Dauphin Country Court of Common Pleas complied. The trust contested the judge's order and likely would have won on appeal. But evidently, it decided it wasn't worth the fight.
Preventing the sale is likely to be portrayed as a triumph of small-town values. In fact, it is a sock in the nose for good corporate governance and fiduciary responsibility—two private-sector fundamentals that have taken a beating of late.
Here was an instance where all fiduciaries performed as they were supposed to. The trust sought to diversify its assets so the beneficiaries wouldn't be too dependent on a single stock. The management and board of Hershey, acceding to the desires of a controlling shareholder, initiated and aggressively pursued a process that likely would have resulted in their losing their own jobs. The investment banker pursued and rounded up a highly attractive offer.
But the process was short-circuited by public officials who failed to adhere to their own responsibilities. The attorney general's responsibility is to enforce the law. And there was no evidence or claim that any participant in the process was doing anything remotely illegal. The judge, without finding any evidence to support his claim, found that the sale would cause "irreparable harm" to Hershey.
Of course, mergers usually entail some downsizing and loss of jobs. But companies that chart an independent course, or that are acquired by other companies, fail all the time. And when a company stumbles and falls—particularly a large company based in a small town—it certainly hurts the reputation and finances of a small town. Corning, N.Y. (Corning Inc.), Clinton, Miss. (WorldCom Inc.), and Coudersport, Pa. (Adelphia Communications) have all been laid low by the falling stocks of their hometown companies.
But none of these companies suffered as a result of being acquired. What's more, companies have never hesitated to gut operations in the places where they were born and raised. Through successive restructuring, companies like General Motors and Ford have shed tens of thousands of jobs in their ancestral homes, ravaging cities like Flint and Lansing, Mich. A company that bought Hershey might have shed jobs in the town. But Hershey itself is almost as likely to cut back at home.
According to the Wall Street Journal, Wrigley was willing to offer $89 per share, or $12.5 billion, and to commit to keep plants in Hershey open. But because Pennsylvania officials, acting on the behest of local politicians, substituted their own judgment for that of shareholders and executives, the deal is off. As a result, Hershey's stock fell today and closed at about 65. The poor kids who attend the Hershey School just lost $24 per share, or about $1 billion.
---