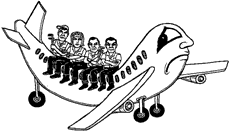 Since US Airways filed for Chapter 11 on Sunday, UAL Corp., the parent of United Airlines, has emerged as the odds-on industry favorite to declare bankruptcy next.
The skies haven't been so friendly for United in the past year. Victimized twice on Sept. 11, the airline tallied an industry record $2.1 billion loss for 2001. With significant debts coming due, the former blue-chip has been blackballed from the capital markets. UAL's application to the Federal Air Transportation Stabilization Board for a $1.8 billion loan guarantee is still pending. Meanwhile, negotiations with the company's unions to extract concessions on wages and benefits have stalled.
While almost every major airline faces a similarly bleak outlook, United is a special and particularly troubling case. For at UAL, the workers—the employees who are now resisting the wage concessions that could stave off bankruptcy—own 55 percent of the company. Collectively, they have far more to lose than the management team does from a Chapter 11 filing. Indeed, United could well go down as the most significant failure of an experiment to alter the relationship between labor and management.
In my 2000 book Bull Run  (shameless promotion alert!), I argued that the growth of public employee pension funds and union pension funds has rendered obsolete much of the traditional labor versus management rhetoric. These big institutional investors, which represent unionized employees, are frequently among the largest holders of a company's public stock. In the case of UAL, however, the workers are not merely large holders, they are the dominant owners.
Back in July 1994, when United was listing badly, company employees gave up $4.9 billion in wage, benefit, and work-rule concessions in exchange for a majority stake in the publicly held company. They would own the shares through a vehicle called an Employee Stock Ownership Plan. United's reconstituted 12-person board contained three representatives of employees, with one each elected by the pilots' and the machinists' union and a third elected by nonunionized employees.
Suddenly, 60,000 of United's 78,000 workers—the flight attendants chose not to join the ESOP—were owners. The pilots wound up with 25.4 percent of the company, the machinists with 20.4 percent, and salaried employees and management with 9.2 percent. Labor Secretary Robert Reich, who helped midwife the deal, said that the United ESOP would "serve as a very important model."
ESOPs were codified in federal law in 1974 and have emerged as a popular means of providing employees with deferred compensation. (Individuals in the plan hold onto the stock for as long as they work at the company.) ESOPs were also touted—by those on the right and left—as an innovative means of ensuring labor peace, of making capitalism more just, and of distributing ownership more equitably. Combining elements of socialism and capitalism, ESOPs were a classic third-way tactic.
By the early 1990s, some 10,000 companies had installed ESOPs. But while it was one of the most prominent ESOPs, United's was far from typical. The vast majority of today's ESOPs are at small, privately held companies. Only 4 percent of ESOP companies are unionized. And aside from UAL, no public company has an ESOP where the workers own more than 50 percent of the outstanding stock.
The motivation for forming the United ESOP was also exceptional. According to Michael Keeling, president of the ESOP Association, about 75 percent of the ESOPs created in the past decade involved "exiting shareholders"—deals done primarily for tax purposes. If the owner of a company sells his stake to his employees through an ESOP, he can reinvest the proceeds domestically and defer capital gains taxes. Only a tiny number—2 percent, Keeling estimates—of ESOPs result from a troubled company offering employees ownership in exchange for wage concessions.
In theory, ESOPs should harmonize the frequently conflicting goals of corporations. Corporations, after all, want to maximize profits, in part by keeping expenses low, including labor expenses. For their part, unions tend to want to maximize current income for their members. In difficult times, the employee investments could serve as ballast for management—keeping shares out of hostile hands while providing an incentive for workers to back management actions that would preserve the value of their mammoth stake. In United's case, the workers aren't merely passive owners. They're actively involved in the company's governance. In fact, the unions' two board members—Paul Whiteford Jr., chairman of the Air Line Pilots Association, and Stephen Canale, an official of the International Association of Machinists and Aerospace Workers—can act in concert to block the nomination of a new CEO.
While other airlines face the same mix of high fixed costs, high labor costs, depressed travel, and 9/11-related costs, one would reasonably have thought that United was better situated to survive precisely because of its majority employee ownership.
Last year, United had revenues of $16.2 billion and expenses of $19 billion. Labor costs accounted for $7.1 billion, or 43.7 percent of all revenues, while the second biggest expense, fuel, accounted for just 15 percent of total revenues. Given that United can't do much about the price of gas, or about the leases for its planes and routes, the logical place for owners to seek to prune costs would be labor.
But at UAL the sense of employee ownership seems absent. The largest owner, the pilots union, has agreed to immediate pay cuts, but only if other unions will accept them. The machinists are rejecting salary reductions outright. "We've made it very clear that United management should not expect further cuts or dig deeper into our members' pockets," Joe Tiberi, a spokesman for the machinists' union, which owns one-fifth of the company, told the New York Times. (Talk about the internal contradictions of capitalism.) Meanwhile, the flight attendants—about 25 percent of the work force—don't have any ownership stake to protect.
And so a grand experiment in worker capitalism may be coming to an end. If United files for Chapter 11, the value of the stock held by its employees will likely be wiped out. It would be both sad and ironic if the unions' unwillingness to deal turned out to be the deciding factors in pushing UAL to file for bankruptcy. Executives will doubtlessly lose big, as their options become worthless. But the employees will lose even bigger.
---