In advertising, it's taken as a given that sex sells. And yet it seems that products that are specifically designed as sex enablers—like Viagra—generally tread a more careful path when acting on this idea than do, say, beer-makers. The more directly a product is tied to sex, the trickier it is to use sex as part of the sales job. Still, such advertisers don't exactly avoid the subject altogether. To see what this means in practice, consider two recent spots: one for Viagra (see it here, via Ads.com) and one for something called Enzyte (see it here, also through Ads.com).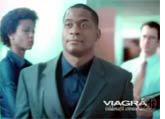 The Viagra ad: Joe arrives for work. Immediately, a colleague in the lobby asks him, "New haircut?" No. As he passes through the office, everyone tries to figure out what's different about Joe. New shoes? Been working out? Shave your mustache? No, no, no. What's different, an announcer eventually reveals, is that Joe "finally asked his doctor about Viagra." As Joe strides out to the parking lot at the end of the day, he laughs joyously into his cell phone. Perhaps he's going home to enjoy some nice, refreshing sex. And that's what's different about Joe.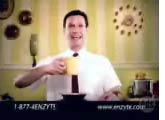 The Enzyte ad: This spot starts out with an absurdly smiling man, a prototypical square, beaming as he hoists a yellow mug of coffee in his bright kitchen. The background music is chipper whistling. An overly cheerful announcer says: "This is Bob. Bob is doing well. Very well indeed." Bob's zombielike smile persists as he heads to the office. "That's because not long ago, with just a quick phone call, and a free brochure"—we see Bob taking a break from his day of smiling like an idiot to read a brochure—"Bob realized he could have something better in his life." Again we contemplate Bob's big old grin. "And what did he get? Why, not only a big boost in confidence," the announcer continues, sounding for all the world like a parody of a 1950s training film, "a little more self-esteem, and a very big promotion." Bob is heading back home again, past a neighbor wielding a somewhat limp hose. "He got the very thing that makes a man really successful." Now the neighbor's hose goes totally flaccid. Bob opens the door to his beaming wife. "A very happy Mrs. at home." The announcer then suggests that if you're interested in learning more about "natural male enhancement," here's a number to call for a brochure, etc.
No joke? Both ads are jokey, and the Viagra one is fairly clever in teasing the viewer along to the payoff. It pursues a strategy that's easy to understand—attempting to remove any stigma from the use of Viagra, while underscoring that no one will know you use it.
The Enzyte ad is harder to figure out. It comes across like a big sendup of sex-aid products in general, as if the real goal is for the viewer to laugh at the whole idea of something like a "natural male enhancer." Watching this ad, you keep waiting for the Energizer Bunny to show up, revealing that everything you've seen up to now was just a ruse. But apparently it's not. So why satirize the very thing you're selling? You'd think the condition that would lead someone to consider a product like this would not leave him in a particular mood for laughter. The best rationale I can think of is that Enzyte wants to use humor partly to make the whole subject easier to think about, and partly to distance itself from the transparently fake sobriety that peddlers of quackery tend to rely on.
Yet Enzyte itself seems to fall into one of the flakier segments of this category—the vaguely scientific-sounding pill that supposedly works wonders, in ways that are never clearly defined. A related Web site has that pseudo-serious look to it, as if Enzyte, like Viagra, were a prescription drug, which it isn't. Viagra is made by Pfizer, a venerable pharmaceutical company that makes a range of FDA-approved products. Enzyte is a dietary supplement made by something called Lifekey Healthcare, whose only other product, so far as I could tell, was an earlier "male enhancer" with a different name. After the product's name there's even a parenthetical phrase, "suffragium asotus," which sounds like it might be the scientific name for the active ingredient in Enzyte or possibly the name of a plant since Enzyte is supposed to be an "herbal" product. (From what I've read, neither the scientific nor herbalist communities have much nice to say about Enzyte.) But in fact "suffragium asotus" appears to be Latin—if slightly mangled and not quite grammatical Latin—for something like "sensual assistance." All of which suggests that the makers of Enzyte are perfectly serious about selling their product—but that even they must think there's something funny about the idea that anyone would buy it.
---