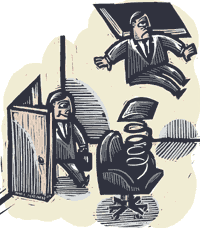 The theme in the business world this week is Meet the New Boss. First, United Airlines named a new CEO, then Ford did the same. In both cases the firms were under pressure, and a change at the top was no great surprise.
Here's how the narrative goes, not just in these two instances, but in all similar new-honcho-at-embattled-company scenarios. There is a New Boss. He (or she, on occasion) replaces the Old Boss, whose tenure was widely perceived as being troubled. The New Boss has a great advantage over the Old Boss, which is that he is not the Old Boss. The company wasn't doing well under the Old Boss, see, so we frown at the Old Boss, and we notice, right away, that the New Boss is someone else. Someone new.
What was wrong with the Old Boss? Well, obviously, he was too bent on forcing major changes (example: Jacques Nasser, just ousted from the top of Ford). Either that or he was too stuck in the usual way of doing things (example: departing United chief James Goodwin). He was blinded by optimism (Nasser) or, alternately, too much of a doomsayer (Goodwin).
That brings us to what's so good about the New Boss. The New Boss is a consummate insider who truly knows and understands the company's culture (like William Ford, great-grandson of the automaker's founder, tapped to take Nasser's place). Or he's an outsider without the Old Boss's baggage (for instance, John Creighton, taking over the CEO job at United). With luck he's young and not set in his ways (Ford is 44), or he's a seasoned executive who can draw on past experience. (Creighton is 69 and the former CEO of a paper products company.) Best of all, he's spent his whole professional life focused on this business (Ford)—unless of course he brings a totally fresh perspective from some unrelated field (Creighton).
So you can see why there's so much excitement about the New Boss, who is so decisively not the Old Boss. Ah, but there's one important caveat in the case of Ford, United, and every other company that experiences a similar change in management: The change comes at a "critical time" (Wall Street Journal on Ford), a "difficult time" (New York Times on United). A crossroads, if you will. Things could go either way! That's the challenge for the New Boss.
We won't know if he's up to it until he's become the Old Boss. But while he's still New, hopes run high. Ford's New Boss, one analyst told Fortune, has "got what Ford needs," and the Wall Street Journal chimed in that the New Boss's "bold strokes" could put the company in "striking distance" of top automaker GM. Of course, those comments all come from 1999. Back then, the New Boss at Ford was a guy named Jacques Nasser. And we all know that he's old news now. Unless he resurfaces somewhere else, where he can be New all over again.
---