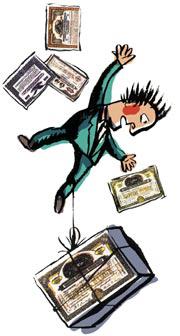 When Priceline announced that it would fall short of its revenue and earnings goals for the current quarter yesterday, its share price fell. That makes sense. But the share price of Yahoo! and Amazon also fell, and those drops were widely chalked up to Priceline's troubles.
That makes no sense at all. What does Priceline's business have to do with Yahoo!'s? Priceline brings in revenue by selling airline tickets and hotel reservations. Yahoo!'s revenue comes largely from advertising. The link is supposed to be that they are both "Internet stocks," but maybe now is the time to ask: Is the idea of the "Internet stock" even valid anymore?
When these companies were lumped together a few years ago in the slew of "Internet Indexes" that popped up, they were united by a theme–the debate over whether the Internet was a viable thing that lots of people would use. Obviously that debate is now rather quaint. Priceline's problems this quarter aren't the result of some drop-off in Internet usage; they're the result of problems in the sector that Priceline's fortunes are actually tied to, which is the airline and travel business.
It's remarkable how quickly it's happened, but the Internet theme really does seem pretty close to useless at this point, which begs the question of whether indexes and analysis that are Internet-specific are really relevant anymore, or at the very least whether their purview shouldn't be rejiggered in some way. It makes some sense to look at Internet retailers or Internet publishers as groups unto themselves, but it also seems that by now pretty much every stock analyst ought to have a handle on how the Internet affects his or her sector.
Yahoo!'s shares are recovering far more sharply than Priceline's so far today, which is perhaps an indication that unfounded Internet groupthink is starting to fade. There are good businesses and bad business, and pretty much all of them make some use of the Internet. It may be easier to keep on thinking of Net stocks as an undifferentiated mass, but it's going to be less and less useful. And that's as it should be.
Illustration by Robert Neubecker.
---