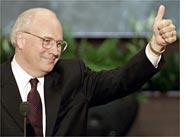 You might think that a guy who has presided over a big company for five years, during which that company's share price doubled, might want to bring that up if he were running for public office. Not Dick Cheney. "Eight years ago," he said in his speech at the Republican convention last night, "when I completed my years as secretary of defense, I loaded a U-Haul truck and drove home to Wyoming. … Lynne and I settled into a new private life. There was time for fishing and grandchildren, and we were content."
Yes. In addition, there was time to build a personal net worth in the tens of millions of dollars, which is probably another source of contentment. I was disappointed that Cheney's summation of his qualifications for the office of vice president omitted any mention of or even allusion to Halliburton, the oilfield services company where he has served as chief executive officer for half a decade. ("Home" is now Texas, by the way, but presumably Dallas-based Halliburton took care of the move from Wyoming, so he didn't have to hassle with a U-Haul again.) (Say, what was Cheney doing loading that U-Haul, anyway? A man with his health history ought to leave the heavy lifting to someone else, no?)
I was disappointed because I've had a hard time figuring out from press accounts just what kind of CEO Cheney was. "He's done a very good job," one analyst commented to CBS Marketwatch.com, the day before Cheney's selection was announced. "Probably to his credit, he has had Dave Lesar"–the company's president and chief operating officer, who has since been anointed Cheney's successor–"basically managing the day-to-day operations of Halliburton. If Mr. Cheney were to leave, Lesar could step in and replace him and there would be no negative to Halliburton."
Well, what does that mean? Maybe the company should have made me the new CEO of Halliburton, because to my credit, I would have continued to let Dave Lesar basically manage the day-to-day operations. I'd have been willing to do it for, oh, half of the $1.9 million salary Cheney earned last year.
Cheney started at the top at Halliburton–a company that provides big oil companies with equipment for exploration and for the actual pumping of oil out of the ground–in 1995. He managed get the job with hardly any business experience, apparently by impressing the firm's prior CEO during a fly-fishing trip. An upbeat assessment of Cheney's Halliburton stint in the Times recently described his subsequent role as "Halliburton's outside man, a globe-trotting rainmaker." Another stock analyst explained to the Associated Press, "What Dick does at that company is personally make high-level strategic decisions, sets broad policies and provides access to national oil companies who have an impact on contracting of oilfield services."
He ends up sounding like more of an ambassador than a CEO, but apparently he was quite good at it: In addition to his cash salary, he has piled up Halliburton shares worth somewhere north of $51 million. (A report in Forbes.com also figures that his directorships at Procter & Gamble, EDS, and Union Pacific, have brought him at least another $1 million in fees and stock.)
And his tenure hasn't been bad for shareholders so far. The company's stock was at $21 a share when he arrived and at about $41 when he announced his pending departure (that's a bit off a 52-week high of $52 and, as it happens, slightly lags the S&P 500 index over the same five-year period). On the other hand, the same analyst who praised Cheney's "high-level strategic decisions" adds that it will take another couple of years to gauge Cheney's legacy. Shortly after Cheney's announcement, the company made public its second-quarter numbers, which showed a decline in profits from $83 million to $75 million compared with same quarter in 1999. (Still, this was slightly better than analysts had figured.)
So apparently the conventional wisdom is that we can draw two conclusions from the Cheney era at Halliburton. First, he did a great job. And second, he won't be missed. Obviously it's going to be tough to believe both of those things indefinitely. Perhaps our old friend the market offers a clue: Since news of Cheney's resignation, HAL shares are up about 15 percent.
Photograph of Dick Cheney by Gary Hershorn/Reuters.
---