This essay contains spoilers up to Season 3, Episode 7 of Crazy Ex-Girlfriend.
In a turning-point installment this fall of the CW series Crazy Ex-Girlfriend, protagonist Rebecca Bunch retreats to her mother's house in Scarsdale, New York, after her life in suburban California has collapsed around her. Although she fled out West in part to escape her suffocating, hypercritical mother, Rebecca finds that her mom is suddenly embracing her with nurturing acceptance. So Rebecca does what she always does in moments of great elation, dejection, or confusion: She bursts into song. In this case, it's an early-1960s girl-group number, complete with a black-and-white backdrop, a "Be My Baby" beat, poseable-doll dance moves, and a chorus that exclaims, "Maybe she's not such a heinous bitch after all!" to a melody that recalls that 1960 Goffin-King perennial, "Will You Still Love Me Tomorrow?"
As always on the small screen's brightest and darkest musical comedy series, there's nothing casual about the choice of genre. Most TV attempts at musicals either stick to familiar stage formulas or (like Nashville, Empire, or Glee) justify the songs' presence with a performing-arts setting. CXG is the first to adopt the 21st-century neo- or meta-musical aesthetic that includes stage work such as The Book of Mormon, Urinetown, and Avenue Q—intertextual, discomfiting, and often downright filthy. That's combined with the do-it-yourself, grab-bag style of online comedy videos, the field in which series co-creator Rachel Bloom first made her name, rendering CXG a stepsister of shows like Broad City or High Maintenance. It also has the omnivorous tastes of a millennial cohort that's used to cruising through music history with the flick of a thumb. But it's highly conscious of how those reference points form a shadow map of changing attitudes and social formations through the decades. By targeting those musical markers in the collective unconscious (much as Buffy the Vampire Slayer appropriated horror tropes), it carries off tonal and emotional shifts most shows couldn't encompass.
Classic girl-group music, for instance, was an echo chamber of contradictions. Teen girls—white, black, and Latina—were given a voice they'd never had in pop music but on terms set by domineering male producers. (Need I say more than Phil Spector?) Lead-vocal timbres verged between girlish idealism and a dimmer resignation to adult femininity, in an era when nobody'd ever heard of a "Ms." The backup singers created an atmosphere of girl-gang sisterhood, but the lyrics were usually about pining for and submission to some guy, often distant and neglectful, sometimes outright abusive: "Chains, my baby's got me locked up in chains," sighed the Cookies. "He makes me do things I don't want to do," confessed the Exciters. And, notoriously, the Crystals: "He hit me, and it felt like a kiss."
All these elements flow through "Heinous Bitch." Using music that dates back to her mother's own youth, Rebecca is regressing to adolescent petulance and yearning for parental approval. When her (imaginary) backup singers croon, "Maybe, maybe, she's nicer to her baby," it shifts pop's usual, romantic use of "baby" to the literal, infantile one. And the claustrophobic menace is here, too, because later, viewers will learn that Rebecca and her mom's relationship remains as toxic as ever.
This isn't just subtext. It's text. Amid jokes about wishing her mom would "have a cancerous mole," and dreaming of just "resenting my mother in a regular way," Rebecca sings:
I know it sounds like I'm falling in love.
Well, when we're finding a mate, it's our parents we're thinking of.
My relationship with her was my first failed romance—
Now finally the cute boy's asking me to dance!
Maybe she's not such a heinous bitch after all.
Want to deal with Freudian family complexes and traumatic attachment issues? If you're Rebecca, you go to a quasi-incestuous girl-group torch song, not to therapy (at least, not until the next episode).
Crazy Ex-Girlfriend features two or three songs an episode. (With its return from hiatus this week, it's now nearing its 100th.) They range from sultry, club-pickup pop R&B (but, well, "please don't be a murderer") to 1980s power ballads (evoking Heart's sister-act melodrama to portray a passive-aggressive friend feud) to 1930s Fred-and-Ginger ballroom swing (but with a much glummer notion of courtship). Not to mention all manner of show tunes.
While Bloom first drew attention making YouTube comedy-song videos that earned her the description "Dirty Weird Al Yankovic," it's the depth of her grounding in musical theater that makes CXG so virtuosic. The show is an outcome of an evolution that begins with vaudeville, cabaret, and Yiddish theater, the deep-rooted source of Rebecca's mom's great first-season patter song, "Where's the Bathroom?" (Along with Transparent and the new Amy Sherman-Palladino period piece The Marvelous Mrs. Maisel, which uses show tunes as interstitial music, CXG is one of the most Jewish TV shows ever.) Bloom is a 21st-century kupletist in the tradition of Yiddish-theater comedians, like Leo Fuchs or his Hollywood heir Danny Kaye, who riffed satirical couplets about everyday as well as political matters. But CXG also draws on the DNA of Broadway revue, postwar golden-age book musicals, and the 1960s-to-1980s concept-musical revolution of Stephen Sondheim as well as Kander and Ebb, among others. (Bloom's personal favorite is Sondheim's Assassins.)
Personally, like a lot of kids of the rock era, I grew up thinking of musicals mainly as hokey throwbacks. But as a critic, I've come to understand how indispensable they are to the story of American popular music—and I've been lucky to reach that point when there are creators around such as Bloom, Lin-Manuel Miranda, and Taylor Mac who bring contemporary-pop-art edge to that cultural lineage.
Bloom has said that in CXG songs the musical genres play the "straight man," the foil of the jokes. But these aren't just parodies, or even just wry commentary on the show's plot and characters. They're deconstructions of the implicit content of their chosen genre—the fantasy narratives and social values that it's selling under the surface.
On Crazy Ex-Girlfriend, when Rebecca's middle-aged boss Darryl unexpectedly comes out as bisexual, he does it with "Gettin' Bi," modeled on the '80s dad rock of Huey Lewis and the News. Not only do you get the absurd juxtaposition of a coming-out anthem with the yakety-sax groove of heteronormativity at its dopiest, but we're reassured that while Darryl may be queer now, he's still irredeemably square. (Credit here goes particularly to one of the secret weapons of CXG, and of screen music generally for many years, executive musical producer Adam Schlesinger.) And when the show takes on pop doofus Ed Sheeran's "Thinking Out Loud," it zeroes in on what the original video makes crystal clear: His mouth might be saying, "I'm thinkin' 'bout how people fall in love in mysterious ways," but there's only one thought behind those sensitive-mack-daddy eyes, and that's "Let's Have Intercourse."
This agenda of dismantling narratives applies equally to the show's own structure. That's become  obvious in the pitch-dark first half of Season 3. CXG is playing one of the trickiest long games in the history of TV comedy, and from a perilous position, too: While it's one of the most critically acclaimed programs on broadcast television, it is also the lowest rated. Not among the lowest, but consistently in the absolute last spot, almost as if it's trying to make a point.
Drawing viewers to a musical is already a challenge. Now add a title that repelled some potential viewers on sight (as the first-season theme song admits, "That's a sexist term"). That gesture at least clued some viewers in that it wasn't going to be a low-concept sitcom about how bitches be cray. But if you're expecting a straight-ahead feminist satire, you might be disappointed as well. The situation's a little more nuanced than that, and even the nuances have nuances. One of them is that our heroine actually is mentally ill.
Rebecca's downward spiral begins in the pilot, after she rejects a partnership at her New York law firm to pursue her airheaded teenage crush Josh Chan to West Covina, California—all the while denying to herself and others that's what she's actually doing—and dumps all her psych meds down the sink. This season, though, she hits a bottom lower than all her previous lows, with a suicide attempt following her abortive attempt to take refuge at her mother's. When we come back, Rebecca is in the hospital, finally accepting help, and is diagnosed with borderline personality disorder.
This is depicted with great kindness and compassion—Bloom and many of her writers have personal experiences with mental illness—and amazingly without sacrificing the show's sense of humor. But CXG now cannot be what it was. The secrets behind all of Rebecca's schemes have been revealed to the other characters, and her wackiness has been revealed as desperation. The plot engine of her fixation on Josh is dead; the last episode before the holiday break, "Getting Over Jeff," was the first to leave Josh's name out of the title. And after the Fatal Attraction–style revenge spree Rebecca attempted and comically botched earlier in the season, the show has finally played out and discarded the most pathological scenarios that the archetypical crazy ex has to offer. From here, CXG can only continue to follow Rebecca's recovery (with inevitable backsliding, as in this week's new episode), along with the many issues of the supporting characters. Who would have thought that a satirical TV musical would turn out to be an earnest, longform investigation into the stigmatization of mental illness?
This would be a radical turn for any narrative already past its halfway mark—Bloom and her co-creator Aline Brosh McKenna have always said they planned a limited, four-season arc—let alone a cult genre pastiche. The approach to the songs is a microcosm of the show's hunt for bigger cultural game in pop music, TV, and movies—the received mythology of romance.
Joan Didion famously wrote in the mid-1970s, "We tell ourselves stories in order to live." Yes, responds CXG, but those stories are also killing us. In interviews, Bloom and Brosh McKenna have talked about the neuropsychology of crushes and love affairs, of the initial limerence phase of euphoria and fixation, which stimulates the same parts of the brain as cocaine. Love itself is a semi-benign madness born of biological imperative, and it's a dangerous notion that anyone, women especially, should blindly follow its dictates, the way romantic heroes and heroines do. (The upcoming 100th song is a Hair-style hippie anthem, except that the liberation it hails is from love itself.)
Rebecca and her best friend, Paula, her co-worker and often co-dependent in her obsessive quests, are always referring to fairy tales, romantic comedies, and other cultural templates of happily ever after.
In the pilot, when Paula first sniffs out Rebecca's love quest, they duet on a reprise of Rebecca's ode to her new hometown (but really to Josh), "West Covina." Rebecca sings, "I don't know what happens next … It's time to kick it into high …" while Paula sings in counterpoint, "Carrie and Big, Harry and Sally, Julia Roberts and Richard …," and then they hit the high note together: (Rebecca) "gear!" and (Paula) "Gere!"
That was the instant the show had me in the palm of its hand. But it was also the beginning of a pattern with the music: While the songs at first seem to be strictly figments of Rebecca's imagination, they soon begin to spread among the West Covina populace. Whenever she draws other characters into her excitingly off-kilter world, they'll soon be singing their own tunes.
Her troubles aside, Rebecca is an extremely intelligent, vivacious, and (when she's functional) caring person. Her arrival in pokey West Covina ("two short hours from the beach," except that it's actually four) shakes the town up. The people she meets start to get themselves out of longtime ruts, to close the "happiness gap," as Bloom's described it, that afflicts each one of them. But the songs themselves, alas, are not positive signs. They're literally one of Rebecca's symptoms.
In the Season 2 finale, there's a flashback to her confinement in a psychiatric institution after an incident in college, and we overhear two nurses discussing her:
"What's up with that one?"
"She sings to herself all day. No one knows why." 
A happy ending for Rebecca, then, brings bad news for the audience, enablers that we are: It means the songs go away. In fact, between the title and the rom-com tropes and the tunes, in a sense CXG's mission is to cure itself of its own premise.
One of the ways it's signaled that direction is with a striking musical reset. Already, the theme song has changed every season, to chart the stages in Rebecca's vagabond voyage. It's jarring each time—many fans still miss the original—but the rapid transformation this season makes it obvious why it's necessary. However, there's another reason it hasn't mattered so much: CXG's secret theme song has always been "West Covina," Rebecca's cockamamie remake of "New York, New York" as a paean to an indistinct suburb of strip malls and strip clubs—emphatically not because "this guy Josh just happens to be here." The song is not only reprised with Paula in the pilot, but again with Josh when he begins to fall for her too (a scene that makes me tear up every time, totally against my better judgment), and in several other spots.
In the vocabulary of musical theater, "West Covina" is the show's "I Want" song, the first-act number that declares the deepest desires of the protagonist (and sometimes other characters), gets us on her side, and fixes the story's trajectory. Think of "Wouldn't It Be Loverly?" from My Fair Lady, or in more contemporary works, "Part of Your World" from The Little Mermaid, "Belle" from Beauty and the Beast (which like "West Covina" also establishes the setting), or Hamilton's "My Shot."
But unlike any "I Want" song I can think of, Rebecca's desires in "West Covina" aren't just delusional or misguided—they're a flat-out lie, to herself and to the audience. Contrary to everything the song insists, we know Rebecca in fact cares next to nothing about West Covina (at least not yet) and entirely about Josh.
Speaking of "I Want" songs, in the first scene of the pilot, we hear the only nonoriginal song ever on CXG, as far as I recall: Teen Rebecca is at summer camp, in the chorus on "(I'm in Love With) A Wonderful Guy," from Rodgers and Hammerstein's 1949 South Pacific. (She has a three-word "solo," during which, she later tells teen Josh, she "felt a palpable connection with the audience.") Later, when adult Rebecca runs into adult Josh in the midst of her New York breakdown, she auditorily hallucinates the "I'm in love" part of the song's lyrics on a woozy loop.
"A Wonderful Guy" is a rich reference here. In South Pacific, the female lead Nellie, played by Mitzi Gaynor in the movie, sings it mere moments after her relationship-independence anthem about the very same guy, "I'm Going to Wash That Man Right Outa My Hair." In "A Wonderful Guy," she repudiates being "a smart little girl with no heart" to be "as trite and as gay as a daisy in May/ A cliché comin' true." It's no accident that CXG picked this particular gauzy musical touchstone, in which the leading lady sings two consecutive "I Want"s that cancel each other out, leaving her real motivations very much up for grabs.
But now, in Season 3, when the scales of romantic obsession have dropped from Rebecca's eyes, "West Covina" isn't really a viable manifesto for her anymore. To move on from this crossroad, she needed a new "I Want." And she got it in Episode 6 of this season, "Josh Is Irrelevant," with "A Diagnosis." The choreography for it even nods to its twinship with "West Covina" by bringing in a couple of the same background extras.
In an onstage interview recently at New York's 92nd Street Y, Bloom said, "If I could only write fucked-up 'I want' songs forever, I'd be good." But one of the many notable things about "A Diagnosis" is that for once, the show doesn't take the piss out of the genre. There are still jokes (including one about a therapist whose method was just to tickle Rebecca with feathers) and a measure of denial (with Rebecca hoping for a "quick fix"). But otherwise this is a straight-up inspirational stage number, with Rebecca's diagnosis symbolizing her longing to understand what makes her tick and to find a coherent way to fit into the human puzzle. "Doc, prescribe me my tribe," she sings, "give me my throng/ Tell me that this whole time I've belonged."
When it comes, her diagnosis as borderline proves a little harder to swallow than the sugar pill she was hoping for. But before long she accepts it. As she tells her doctor in the next episode, she's only ever known how to be "really good or really bad. But being a human is living in that kinda in-between space. And that's very scary. But also very cool." (Rebecca, that's what Josh Groban was trying to tell you several episodes ago!)
Given its position around two-thirds into the arc of the series, "A Diagnosis" serves not only as an "I Want" reboot, but as what musical writers would call an "11 o'clock number"—a show-stopping moment after intermission in which a character goes through a musically propulsive epiphany, to rev up a fatigued crowd and drive the story to its conclusion. CXG has had examples of the form before, for instance with Paula's "After Everything I've Done for You (That You Didn't Ask For)" (blatantly based on "Rose's Turn" from Gypsy) or Rebecca's "You Stupid Bitch," which turns her negative self-talk into a scenery-chewing Carnegie Hall singalong. But "A Diagnosis" is the show's first 11 o'clock number that isn't also an emotional train wreck.
As if to reassure us, however, that from here on it won't all be sunshine, flowers, and cognitive behavior–workbook exercises (Rebecca likes homework), the subsequent episode sent Rebecca on a road trip where she got drunk with Paula's father (played by comic Eddie Pepitone) and duetted with him on the Shirley Temple/Annie-style number "My Friend's Dad." Sporting a Daddy Warbucks–esque top hat, Pepitone becomes increasingly inappropriate, with ethnic slurs and sexual innuendo, flushing out the unwholesome undertones of every such pop-nymphet scenario.
Likewise, Paula—whose visit home brings a run-in with the "Josh Chan" of her own teen years—unleashes a 1980s teen-pop anthem à la Tiffany (age-appropriate for the character's feelings of nostalgia) that again compulsively addresses exactly the subject matter teen-infatuation tunes can never mention: the "First Penis I Saw." (It's like a singing dictionary of rhymes for penis.)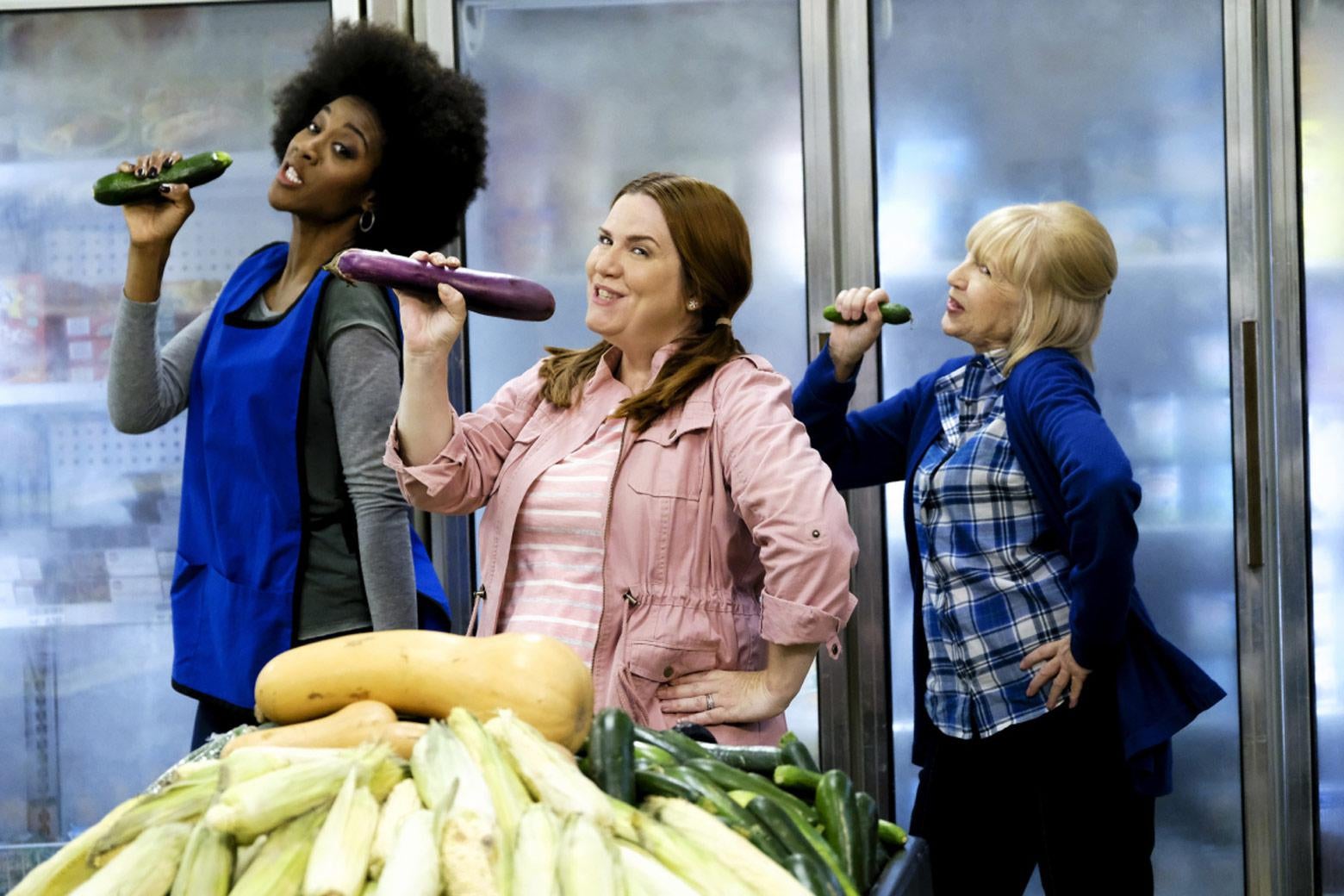 The post-crisis, in-treatment CXG still refuses to let any cultural narrative rest in peace. So some things remain the same—which makes me wonder whether we've heard the last of "West Covina." Yes, when Rebecca first sang it, every word was a lie. But after her overdose, and coming clean to her new friends, it's becoming possible that the town itself really is her salvation. Sticking by her despite everything they've learned, West Covina's jumble of seemingly incidental figures (including Josh's ex Valencia, who has every reason to despise Rebecca and Paula for manipulating her) prove their staying power—partly because they realize she's given them something, too. For the first time in her life, Rebecca definitely has friends, not just in a self-deceptive, Disney Channel–based way. When she moved there, West Covina threatened to be her heinous, self-destructive Waterloo. Instead, it's the place that still loves her tomorrow.
Who's up for a final-episode group reprise? I know it's not the ending another gimlet-eyed takedown of cultural myths might aspire to. But hell, this is a musical. And for a woman like Rebecca, who—like Nellie in South Pacific—always has felt that her intelligence is at odds with her capacity to love, it might be the climax her self-aware, all-too-clever, but always big-hearted story really deserves.