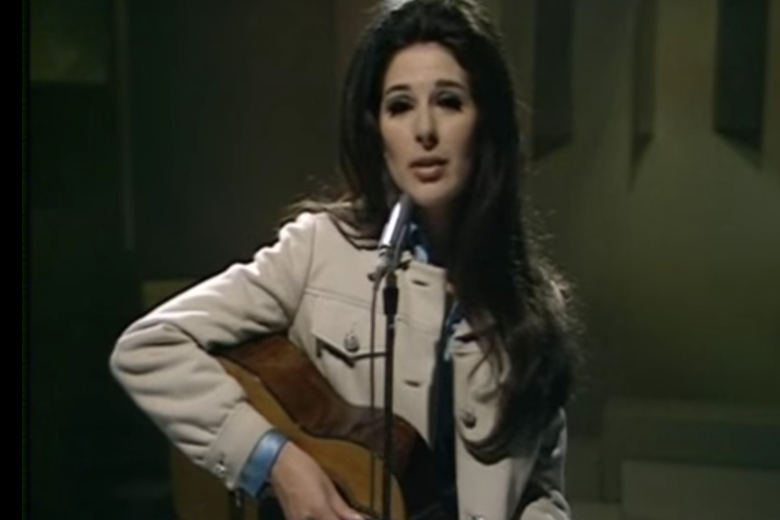 Fifty years ago, on a week when "All You Need Is Love" by the Beatles topped the Billboard charts, a song came out of nowhere—from a singer no one had heard of—and took over the No. 1 spot. "Ode to Billie Joe" is set in a small Mississippi town, and is about a young man, Billie Joe McAllister, who has jumped off the Tallahatchie Bridge. The song never says why he jumped off the bridge or what, the day before, he was seen throwing off the bridge.
Bobbie Gentry, who was in her early 20s in 1967 when she wrote and recorded the song, never said herself why she imagined Billie Joe killed himself, or what was thrown off the bridge.
A story on the latest episode of Studio 360 is about the song—and its singer. Gentry was mesmerizing on stage, her accent true to her Mississippi upbringing, hauntingly beautiful and, with the longest of fake eyelashes, projecting a sort of sad grooviness. Here she is on the BBC in 1968:
After "Ode to Billie Joe," there were more hit songs, a glitzy and long-running Vegas act, and a series of high-profile marriages, including one to the hotel magnate Bill Harrah. But Gentry's career, which started with such a mysterious song, would come to a stop mysteriously, too. In the early '80s, she completely quit show business and disappeared from the public eye. Even some of her relatives don't know where she lives now, or what she does with her days.
Hear more about Bobbie Gentry below, from luminaries including singers Donovan and Susanna Hoffs, a founding member of the Bangles, below. The story starts at the 21:00 mark. You can also subscribe to Studio 360 on Apple podcasts.
One more thing
You depend on Slate for sharp, distinctive coverage of the latest developments in politics and culture. Now we need to ask for your support.
Our work is more urgent than ever and is reaching more readers—but online advertising revenues don't fully cover our costs, and we don't have print subscribers to help keep us afloat. So we need your help. If you think Slate's work matters, become a Slate Plus member. You'll get exclusive members-only content and a suite of great benefits—and you'll help secure Slate's future.
Join